Coping during the lock-down
Mobility skills
Due to the current restrictions on social distancing, we have had to pause all our face-to-face services, including our orientation and mobility service. Unfortunately, this means we're not able to operate in the way we would want to.
During this period, we've adjusted the way we can offer support by replacing our services with online and telephone support (Covid-19 Sight Loss information line 0800 781 1444) as much as possible, until the situation improves.

We've also created a range of 'hints and tips' guidance to support your independence and wellbeing during this challenging time. Both outdoors and indoors.

This includes a podcast series, videos and written guidance, based on practical tips ranging from mobility and independent living skills, and how to make use of the technology available.
Advice on sighted guiding
The current social distancing restrictions are difficult for everyone, but they pose an extra challenge for people with sight loss who are usually supported by a sighted guide.

The Government's guidelines on social distancing advise us all to maintain a two-metre distance from anyone who doesn't live in the same house as you. This means, during this period, you should only be guided by someone who lives in your household.
Here are our top tips on how you can make these restrictions work for you.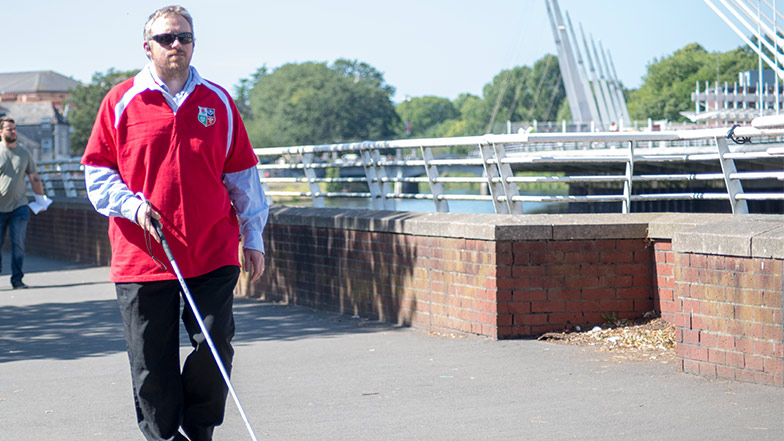 Orientation and mobility social distancing
Getting your daily exercise
The Government advises that we only leave the house for essentials or one form of exercise per day. The guidelines also state that we should avoid gatherings of more than two people.

This means you can continue to be guided by one other person who lives in your household when you go outdoors for exercise. While out, you should both still to adhere to the guidelines and try to maintain a two-metre distance from anyone else, including people you know from other households.

Communication is essential when sighted guiding and it's important that anyone who becomes your guide provides good instructions and descriptions of the environment. This includes any changes in direction, floor surface, or potential hazards, as well as general descriptions of the world around, such as other people nearby. If your family members need any tips on sighted guiding, please refer to our instructional videos.
On returning home you both should wash your hands straight away with soap and warm water for at least 20 seconds. If you also used your cane you should wash it in warm soapy water or gentle disinfectant, including the tip.
Going food shopping
You can continue to be supported by a guide from your household to complete your food shopping. Some supermarkets are restricting shoppers to only one adult per household, but an exception is made for a sighted guide to support you.

When you arrive at the supermarket you may be asked to queue outside the store as there are restrictions on the number of customers allowed inside. You will also be asked to queue with a two-metre distance between each customer, in line with the social distancing guidelines.

To help other shoppers understand your needs and to encourage social distancing, you may wish to consider holding your cane (symbol or long cane) in the opposite hand you are being guided by. We recommend holding the cane either slightly diagonally across your body or down by your side. Make sure holding the cane doesn't affect the ability of your guide to support you or create a trip hazard.

You may also want to consider wearing a high-visibility jacket, waistcoat or armband. These items can be purchased from the following stores:
Macular Society – visually impaired badge
Chesterford – armbands
iProSports – high-vis bibs
If you need to use a trolley in the store, your guide can hold and navigate the trolley whilst you maintain a gentle 'C grip' on their elbow or follow slightly behind with your hand placed on their shoulder.

Alternatively, you may wish to adapt your normal guiding techniques and hold the shopping trolley between you and your guide. You can hold the handle of the trolley whilst your guide gently pulls the trolley and navigates you.

Many of the larger supermarkets are regularly cleaning all the shopping trolley and basket handles, but you could also consider wearing disposable gloves.

On returning home please remember to your wash your hands with soap for at least 20-seconds, as per the guidance.

For any other information on Covid 19, please call our COVID-19 Sight Loss Information line on 0800 781 1444, between 9am and 5pm, Monday to Friday.
FAQs
What resources are available to keep me busy and entertained?

Online libraries

Libraries such as the RNIB National Library Service, Calibre Audio Library and Torch Library are trying to continue operating. The RNIB free Easy Reader app is also a good way to enjoy RNIB's Talking Books, Newsagent and Bookshare's Education Collection - accessible school curriculum content. It enables you to browse and download content from these services.

Amazon books

Amazon books have made a selection of Kindle books available for free download, including titles for all ages and genres.

Free assistive technology

Assistive technology software company Vispero have also made JAWS, ZoomText and Fusion available for free for the next 90 days to help students and people working at home.

Hobbies

If you already have a hobby, for example knitting or arts and crafts, make sure you have enough materials to be able to continue through self-isolation.

Exercise

Keeping active during this period is beneficial not only for your physical health, but also your mental health. British Blind Sport have published accessible workouts to help you stay active and healthy whilst at home.

Radio and television

Local and national radio is a good source of entertainment as well as information, with many stations planning special output during the pandemic. You could also consider purchasing a subscription to a streaming service such as Netflix, where many programmes have audio description.

What should I do if I'm offered help?

Some members of the public are offering to help vulnerable neighbours by placing a note through the letter box. Do not be afraid to accept offers of help from recognised organisations, volunteers and local community groups but continue to be alert and apply due diligence.

For example, if you need to pay for shopping that has been dropped off by someone else, you might like to pay using BACS or PayPal instead of handling cash or allowing your neighbour to use your credit or debit card to minimise the risk of fraud. If you must use cash, remember to wash your hands before and after handling to prevent the spread of the virus.

Please also be aware of keeping your personal data safe and only share what you need to, you should avoid sharing financial details, date of birth and any other personal details not relevant to the activity.

Do we, like the elderly and vulnerable, get priority when doing our essential shopping?

Many leading supermarkets have taken steps to help vulnerable customers with their grocery shopping. This advice continues to evolve so please check the latest information online or by telephoning your local shop.

Co-op

Stores have a dedicated shopping hour for those at higher risk and the people who care for them. Check with your local store for details or call 0800 0686 727.

Iceland

Temporarily limiting online orders to customers who are over state pension age, self-isolating and other vulnerable people, such as anyone or call with a disability. Visit their website for more info.

M&S

The first hour of the day on Monday and Thursday is dedicated for older people (over 70) and vulnerable people. Check their website or call 0333 014 855.

Tesco

Tesco have set aside 9am - 10am, Monday, Wednesday and Friday (except Express stores) to help the most vulnerable. Call 0800 323 4040 / 0330 123 4040 for online groceries or 0800 505 555/ 0330 123 4055 for instore.

Sainsbury's

Sainsbury's have dedicated 8am - 9am every Monday, Wednesday and Friday to serving elderly, disabled customers and their carers. Online delivery slots have been prioritised for elderly, disabled and vulnerable customers who Sainsbury's have identified and emailed. If you think you should be on this vulnerable customer list, please call their phone line on 0800 328 1700.



Waitrose

The first opening hour of opening will be dedicated to elderly and vulnerable shoppers, as well as those who look after them. Check out their website or call 0800 188 884.

Should I use public transport?

For the time being, you should avoid using public transport in line with government advice. Alternatively, ask friends or family members that you live with if they can give you a lift, or walk if you are able. If this is not possible, please contact your local community volunteer support group to ask for help with shopping or errands.

What advice do you have for anyone with sight loss during self-isolation?

Outbreaks of infectious diseases such as Coronavirus can be unsettling. Social distancing and isolation dramatically impacts our lives and routines, making it easier to feel lonely and isolated. It's therefore important you take steps to find support and have a plan in place in case you need to self-isolate.

When grocery shopping, there's no need to buy more essential items than you need in preparation for self-isolation. You can set up an account with an online or telephone grocery delivery service to help you during this time.

It's also important to manage your well-being and mental health during this period of uncertainty. The NHS has developed a fact sheet of 10 ways you can improve your mental health and well-being during the Coronavirus outbreak.

During times of uncertainty and stress, try and keep in touch with your friends and family by telephone, email or social media.

How can I access my medication?

Medicine is still considered an essential, and therefore pharmacies are remaining open for people to pick up medication and health products for themselves, or for people they are caring for at this time.

If you have developed symptoms including a new continuous cough or a high temperature, you're advised not to leave the house for any reason.

If you must stay at home and you take prescribed medication, you should arrange with your pharmacy to have it delivered. Make sure they are aware you have a vision impairment and of any specific requirements you may have. If they are unable to deliver, ask friends or family members that you live with if they can help collect your medication on your behalf.