Christmas card competition!
Calling all young artists: get into the festive mood by designing a Christmas card!
Are you under 18 years old with a vision impairment? We'd love to see your Christmas-themed art, made with materials of your choice. Impress us with your paint skills or wow us with a video or sound piece!

You'll be in with a chance to win a range of art supplies and have your work feature in our children and young people's campaigning with Members of Parliament.

We've also got some extra special guest judges to pick the winners, including children's book illustrator and author Tony Ross (The Little Princess series, Horrid Henry, David Walliams' books). Judges will be making their decision based on creativity, originality, artistic merit and technique. Tony has written some top tips to help inspire you!

So what are you waiting for? Pick up your pencils and get creating!

The deadline for submissions is 6th December 2020.
Enter now!
You must enter before 6th December 2020

Send your artwork and entry form to: Guide Dogs Campaigns Team, 20 Thanet Street, London, WC1H 9QL

or via email to publicaffairs@guidedogs.org.uk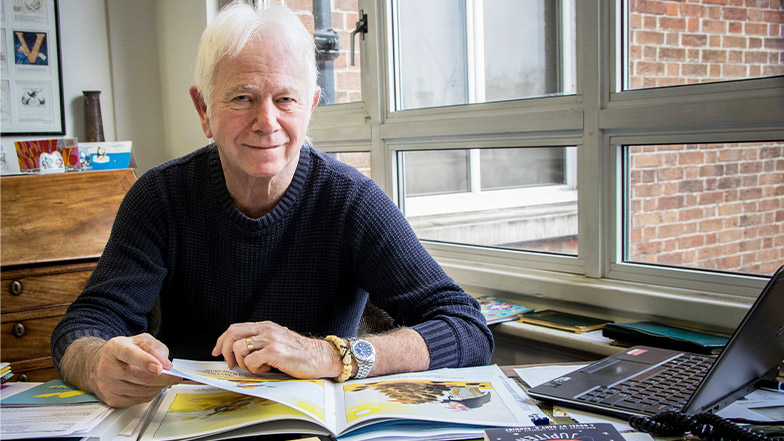 Meet our judge - Tony Ross
Tony Ross has been illustrating books for over 40 years, and has been published all over the world.
He is perhaps best known for his much-loved Little Princess series, which has been adapted for TV and is currently showing on Channel 5s Milkshake, and for his collaboration on David Walliams' best-selling children's books. Tony's books have been shortlisted for the The Laugh Out Loud Book Awards (Slug Needs a Hug) and the Kate Greenaway (Dr Xargle's Book of Earth Tiggers), and Tadpole's Promise won the Silver Medal Smarties Prize.
He has been named as the best-selling illustrator in the UK for three years in a row, and he is the UK's libraries' most-borrowed illustrator.
Tony's Top Tips
Christmas
It's a Christmas card, so the main theme should be Christmas.
What's your first image of Christmas? I bet it's Father Christmas.
Use your image of Christmas on your card. The more popular images of Christmas the better.

Here are some ideas:

Santa Klaus
Reindeer/ sledge
Children sleeping or pretending to sleep
Puddings
Turkey
Christmas tree
Jelly
Snow and Blazing log fires
First Sight
It should shout CHRISTMAS! Make sure that message is strong.
Words are important on a card.
Merry Christmas will do, but play with the sound of words.
eg. Jolly Holly Christmas
Colour
Red and white are traditional colours.
Everyone will be using red and white, so use yours in an unusual way.
For instance, a lot of red, little white, or the other way around
Green is another Christmas colour. A long time ago, Santa was shown wearing green, not red.
It often doesn't snow at Christmas, but snow says 'Christmas'
Humour is good
Cards do not HAVE to be funny, but if humour is clever, everyone enjoys a smile.
Be original
Don't Be Afraid. Be BOLD, Be NEW, and most important, be YOU YOU YOU!
Try to do something NOBODY has done before, but DO NOT lose that Christmassy feeling.
Do not be afraid of being over the top.
If you want 'funny' be VERY funny
If you want 'cosy', be VERY cosy
If you want 'traditional', be VERY traditional
Design the sort of card that you'd like to receive.