Please come back next Christmas! You can still raise money for Guide Dogs by hosting a Great Guide Dogs Virtual Tea party.
About the Great Guide Dogs Tea Party
Get your Santa hats at the ready for a Christmas tea party like no other! You and your loved ones (pets included) can do something amazing this Christmas and help us change lives for people living with sight loss in the UK – every pound raised makes a difference! So get together, eat, drink and play games in aid of Guide Dogs and give the gift that keeps on giving.
Who will I be helping?
Every penny raised from your tea party helps to change lives for people in the UK living with sight loss like Jess.
When Jess was diagnosed with Retinitis Pigmentosa aged nine, her family were relieved to find a reason for her childhood clumsiness. But as Jess got older, the barriers her sight loss created became frustrating.
Jess was matched with her guide dog Kenzie in April 2017 and within months achieved her dream of independently moving to a new city to study.
We rely on donations to continue our life-changing work and thanks to amazing people like you we can continue to change lives.
When's the party starting?
Simply sign up for your FREE fundraising kit and choose from a scrumptious selection of ideas to help make your party a success.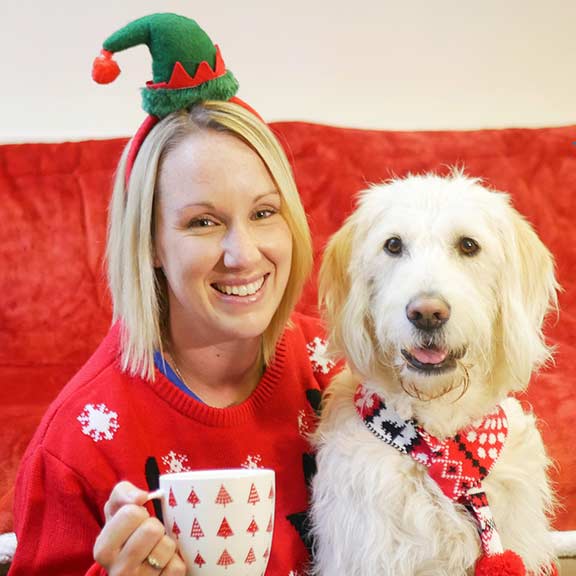 Inside your fabulous kit!
You will find all of the resources you need to organise a fabulous tea party that will raise lots of dough for Guide Dogs
Your fundraising booklet will provide you with ideas and inspiration to help make your tea party magnificent
Fancy invitations to invite all of your friends and family
Wonderful posters, to spread the word
Sweet Pup Sweepstake Scratch Card - to boost tea totals
Plus lots, lots more!