Coming out of lockdown
As we begin to ease out of lockdown, we know that the visually impaired community has been hugely impacted and that there is demand for the services we provide, so we're carefully balancing this need with keeping everyone safe.
Please be reassured that all our services are being provided in line with Government guidance, but the way we provide them may be slightly different to ensure we continue to protect everyone - our staff, volunteers and service users.
We'd also like to thank our incredible volunteers for their continued dedication and for being part of Guide Dogs. More information for volunteers can be found on Advice for our volunteers or by contacting the Volunteering Office.

Blind and partially sighted people have adjusted as much as possible to the daily challenges the pandemic created – but some of the more visual safety measures, like social distancing and changes to the environment, are going to continue to be major barriers to independence and confidence.

We're therefore asking everyone to help; to be aware of the challenges blind and partially sighted people face every day. Being able to make journeys independently and confidently is essential for everyone.
How you can help
All we ask is that everyone remembers the following behaviours which are beneficial to us all:
Meeting in well-ventilated areas where possible, such as outdoors or indoors with windows open.
Wearing a face covering where you come into contact with people you don't normally meet in enclosed and crowded spaces.
Washing your hands with soap and water or using hand sanitiser regularly throughout the day.
Covering your nose and mouth when you cough and sneeze.
Staying at home if unwell, to reduce the risk of passing on other illnesses onto friends, family, colleagues, and others in your community.
Considering individual risks, such as clinical vulnerabilities and vaccination status.
Please remember hand, face, space and fresh air.
Call us
Whether you're asking for yourself, a member of your family, or your child, call us on our Guide Line (between 9am and 5pm, Monday to Friday) and speak to someone from Guide Dogs who understands what you're going through.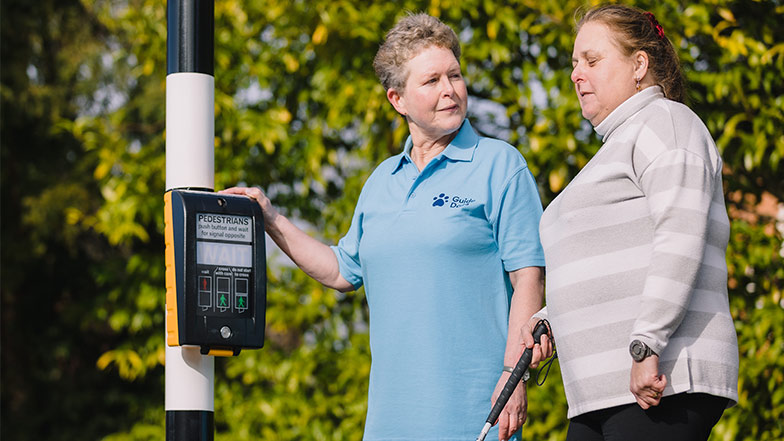 Advice for our volunteers
If you're a volunteer for Guide Dogs and would like more information and guidance during Covid-19, please read our advice and support.
Other information and support available to you
Sight loss organisations
RNIB:
The RNIB Helpline, for the National Library Service and support with all aspects of sight loss.
Phone: 0303 123 9999
Email: helpline@rnib.org.uk
Thomas Pocklington Trust:
Phone: 0208 995 0880
Email: info@pocklington-trust.org.uk
Visionary:
Helpline: 020 8090 9264
Email: visionary@visionary.org.uk
UK Government and NHS