When a community comes together, something incredible happens.
As we've all been faced with the challenge of self-isolating at home this past year, it's become clear that it's never been more important to come together online and support one another.
That's why, throughout April, people came together over their virtual cuppas with friends, family and co-workers to raise money to support our life-changing services.
A variety of Virtual Tea Parties
Virtual tea parties were hosted across the land – from youth groups to families, individuals to businesses, everyone had fun over their virtual cuppas. There were lots of different themes from hats to Hawaiian, those who were celebrating a special occasion, and of course dogs of all sizes joined in including lots of our life-changing guide dogs!
If you'd like to plan a tea party this summer, virtually or socially distanced, complete our short form to get your free tea party pack filled with ideas and inspiration.
The World's Biggest Virtual Tea Party
Hundreds of people joined in on Facebook as part of a Guinness World Record attempt at the world's biggest virtual tea party with the most photos of people holding a cup uploaded to Facebook in an hour on 21 April – National Tea Day. Just like last year, there were lots of famous faces showing everyone how to join the party, including the star of Master Chef Gregg Wallace who said:
"I'm so pleased to be able to support Guide Dogs again this year for their attempt at the World's Biggest Virtual Tea Party. We've all become very familiar with what it feels like to be isolated this past year, but Guide Dogs exists to support people with sight loss who deal with isolation every day.
So why not help them continue to provide their life-changing services by joining them on National Tea Day on 21 April as they attempt to get as many people as possible to share a photo of themselves with their favourite cuppa?

I'm supporting Guide Dogs and I hope you will too."
Missed the party? You can still head over to our event page and see all the amazing posts from the day.
Why your support is so important
Through these unprecedented changes to our way of life, we're all beginning to understand what it's like to have our lives suddenly limited.

Guide Dogs exists to help people with sight loss live the life they choose. Our services give people the confidence to get out and about safely – from our life-changing dogs, the support of our sighted guide volunteers, to the skills we provide to children and families.
Priya's story
Although Priya (pictured right) was diagnosed with Retinitis pigmentosa in primary school, it was not until her daughter Lucy was born that she faced the challenge of adjusting to life as a new mum with a vision impairment.
She'd spent her life up to that point trying to manage and conceal her vision impairment.
Her first guide dog Sidney gave her the confidence to go out and do everyday things, like picking Lucy up from school.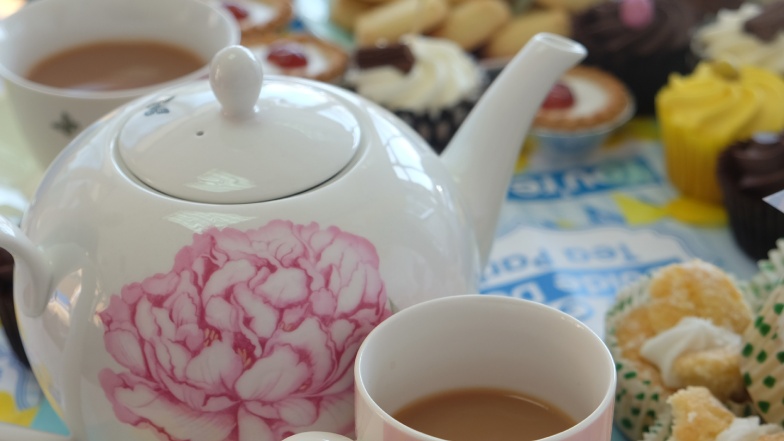 Donate your cuppa
We appreciate that times are really difficult at the moment, but for people with sight loss, social isolation can be their everyday.
So, whether you enjoy a builder's brew or a loose leaf, donate the cost of your cuppa today and help them feel less alone, now and in the future. Thank you!