Large print children's books
Get to read the same books as your friends and classmates with large print books that include:
picture books
fiction
non-fiction
Oxford Reading Tree
GCSE and A Level English texts and textbooks
revision guides for Key Stages 2, 3 and 4
Your book will be custom-made to suit your specific requirements by tailoring the following:
font type
font size
font spacing
line spacing
paper colour
binding (for example spiral binding so books lie flat)
How to sign up
Complete the individual or schools/services membership form
Payment can be made by cheque, debit or credit card
We'll send you a CustomEyes book at the RRP
From Dr Seuss to The Hunger Games and Harry Potter to Shakespeare, we are sure to have something for you or your child.
Our tailor-made large print children's books, for up to and including 25 year-olds, are made especially for visually impaired or dyslexic children and young adults.
It costs over £250 to produce a CustomEyes book, however, each and every book is available to you, your children, pupils and service users at the recommended retail price only.
Open up a whole world of imagination and learning choosing from over 4,000 published books with new titles being added monthly.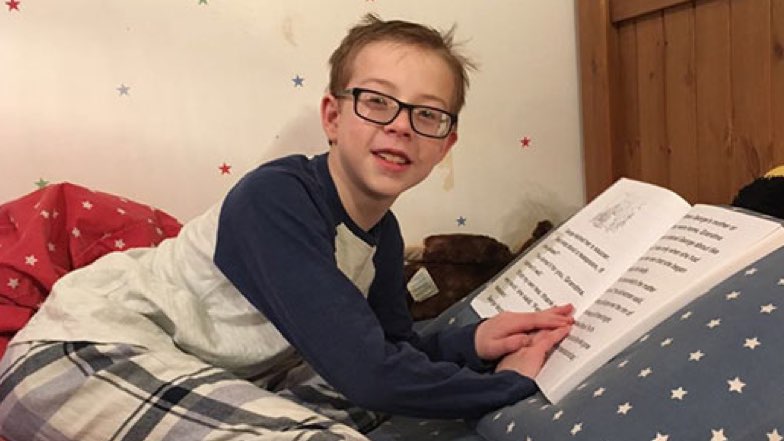 Fin's story
Having exhausted various aids to encourage Fin to read, Fin and his Mum Nicky were both left feeling frustrated and discouraged. Then they were told about CustomEyes.
"We then found out he was never a reluctant reader before, he just didn't have the right tools."
Fin adds, "I could read them myself without any help and started liking reading! I feel just like everyone else now."
After using CustomEyes large print books, Fin hasn't gone back to any other methods of reading.

Do you need help?
Please get in touch if you'd like some advice, or to chat about how we can help your - or your child's - imagination fly!