Great Guide Dogs Virtual Tea Party
Join us for our 'Meet Guide Dogs' series this July!
Join us this July for our Great Guide Dogs Virtual Tea Party 'Meet Guide Dogs' series
We are holding a fantastic 4-week series of Facebook Live events with some of our life-changing dogs!
The 30-minute events will take place at 11am on the following dates:
Wednesday 8th July

-

The Young Ones
Wednesday 15th July

-

Pre- School
Wednesday 22nd July

-

Off to School
Wednesday 29th July - Life changer
You will meet some of our staff and volunteers and learn about the journey of our amazing dogs as they become life-changers.There will be Q&A time for all your questions too.
As many face the challenge of self-isolating at home, it's never been more important to come together online and support one another. We hope you will join us over your morning cuppa each week.
Host your own Great Guide Dogs Virtual Tea Party
This summer we are looking for tea party hosts to help make a difference as we remain committed to supporting people with sight loss across the UK. The last few months have unfortunately impacted on our fundraising a lot, but we don't want that to have an impact on the people who need our help the most. That's why we need you.

Would you sign up to be a home hero and host a Great Guide Dogs Tea Party? Not only is it a great way to have fun, you will also be raising vital funds at this difficult time. Whether you plan a garden get-together with friends, driveway drinks with your neighbours or virtual video call parties with your work buddies, we'll support you every step of the way! Why not plan something during Afternoon Tea Week 10-16 August?
We've never needed you to share a cuppa, have a few laughs and enjoy all your favourite sweet treats more. Every penny you raise will help us provide our life-changing services, now and in the future.
Need some virtual tea party inspiration?
You may already have a brilliant tea party idea, but if you need some inspiration here are some ideas to help you get the party started:
Garden get-together – invite everyone in your bubble over for tea in the garden, maybe plan a few fun games too?

Baking fun – set your guests the challenge of baking something new a la 'Bake Off' style and showcase your creations. Battenburg anyone?

Driveway tea parties – invite your neighbours to join in on a mini street tea party, raising a cuppa together whilst social distancing

Teddy bear picnics – get the kids involved in organising a tea party, inviting all their favourite cuddly friends

Cuppa and a catch up with your co-workers – with so many people working from home, why not organise a virtual tea party with your entire team?

Zoom parties – connect virtually and share a cuppa, maybe even make it a dress up or fancy-dress themed for extra fun?
Please remember that whatever you plan we want you to stay safe. Make sure you are following the latest government advice in your local area to ensure you and all your tea party guest can remain safe while having fun and making a difference.
Register for your free tea party pack today!
Register today for your FREE tea party pack and you can download all the resources you'll need to help make your event a success.
We will use your personal information, provided below, to process and contact you about your registration.
Fields marked with '*' are mandatory.
Every penny counts
We appreciate that times are difficult at the moment, but for people with sight loss, social isolation can be their everyday. Any money raised through fundraising will help them feel less alone, now and in the future.
Priya's story
Although Priya was diagnosed with Retinitis pigmentosa in primary school, it was not until her daughter Lucy was born that she faced the challenge of adjusting to life as a new mum with a vision impairment.

She'd spent her life up to that point trying to manage and conceal her vision impairment.

Her first guide dog Sidney gave her the confidence to go out and do everyday things, like picking Lucy up from school.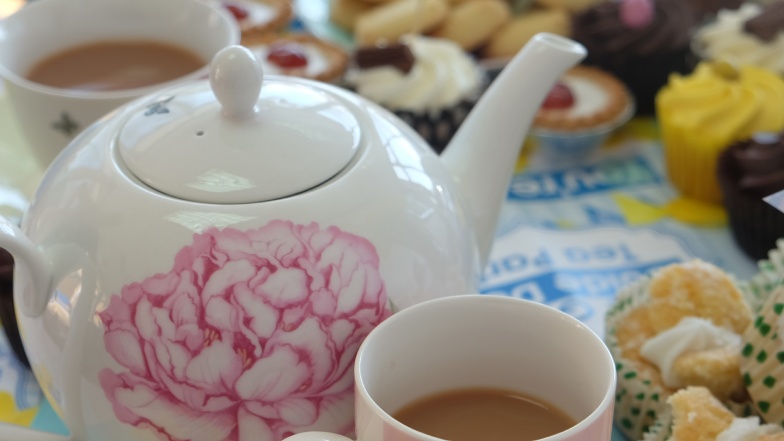 Donate your cuppa
We appreciate that times are really difficult at the moment, but for people with sight loss, social isolation can be their everyday.
So, whether you enjoy a builder's brew or a loose leaf, donate the cost of your cuppa today and help them feel less alone, now and in the future. Thank you!