Assistive technology for children with vision impairment
For children with a vision impairment, technology is vital. It develops learning, creativity, life skills, and ultimately, confidence and independence.
At Guide Dogs we believe children with a vision impairment should have access to technology. Our Tech for All service offers a free Apple iPad to children and young people (aged 3-18) with visual impairments, to use outside of school*.
We know how important these devices are to a child's development — both to support learning at home or just to have fun and explore the activities and interests they enjoy.
How can assistive technology help my child?
Unlock possibilities with Tech for All
While technology in schools remains the responsibility of local authorities, it's important for children with no or low vision to also have their own device at home. We're committed to making this possible for children in the UK with a vision impairment, so we're offering free iPads for children and young people (aged 3-18) with vision impairment in the UK, for a limited time.
What assistive technology can my child get with Tech for All?
Our Tech for All services offers iPads to visually impaired children (aged 3-18). iPads have excellent accessibility features built-in as standard, such as screen magnification, voiceover and audio descriptions, to make many activities easier, like reading in larger fonts, magnifying photos and keeping in touch with friends.
We'll be there to help you and your child make the most of their new device by providing online guides and tutorials. So your child can use it to independently play their favourite games, listen to music or audiobooks, watch shows and connect with family and friends in the format that works best for them.
How do I apply for a free device for my child?
To apply for an iPad for your child completely free of charge, simply fill in our online form. As part of the application, we'll ask you to provide proof that your child has a vision impairment (for information on how to add this, including reducing the file size, please see our FAQs). For more details on whether your child is eligible, see our eligibility criteria.
*Available while stocks last and subject to receipt of proof of a child's vision impairment.
Are there any other types of assistive technology or equipment available?
If these devices aren't right for your child's needs, we also offer grants for specialist assistive technology devices or software (such as laptops or desktop computers with screen reading software, refreshable braille displays, video magnifiers or enlarged keyboards) that can provide a fully customised experience to meet your child's preferred style of learning and way they get information. We also provide grants for sensory equipment and toys, to help your child meet important development milestones with a choice of sensory packages with toys carefully selected by our experts for different age ranges.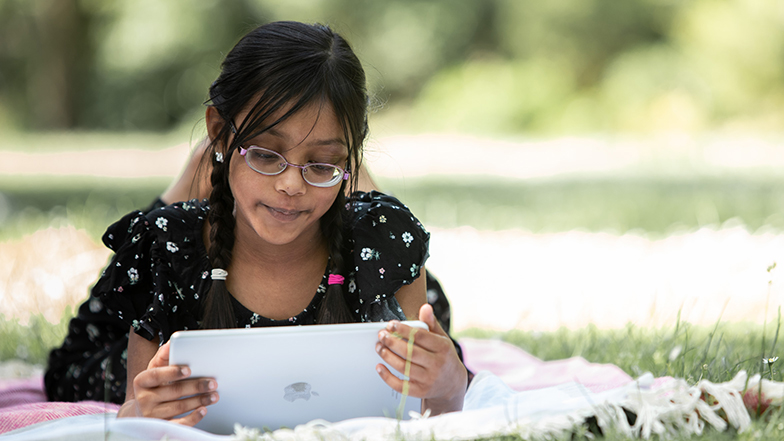 Interested in a free iPad for your child?
Our Tech for All service offers a free iPad to children with vision impairment in the UK.