Guiding Stars
Your Guiding Star can truly light up someone's life
Take part in this year's Guiding Stars appeal by dedicating a star to commemorate someone special
Every year at Guide Dogs we commemorate the lives of loved ones who are no longer with us with our beautiful Guiding Stars Christmas trees. We have been running our Guiding Stars campaign for 14 years now, and for many, supporting us in memory of a loved one at Christmas has perhaps become an annual tradition. By donating in their memory, you can help Guide Dogs support more people with a visual impairment.
Dedicate a star this Christmas to your loved one
By dedicating a star to commemorate the life of a beloved person or pet, you can help fund more 'Guiding Stars' this Christmas, providing confidence, freedom and independence to those who really need it.
You can dedicate a star in several ways:
Visit our online dedication page and leave a message to your loved one, along with a much-appreciated donation to Guide Dogs.
Request a star, write a message on and return it to us to hang on our Christmas trees, call 0800 953 0113 for your Guiding Stars pack.
Download your Guiding Star to hang on your own Christmas tree, take a picture and share your special words with us by posting your message on our dedication page.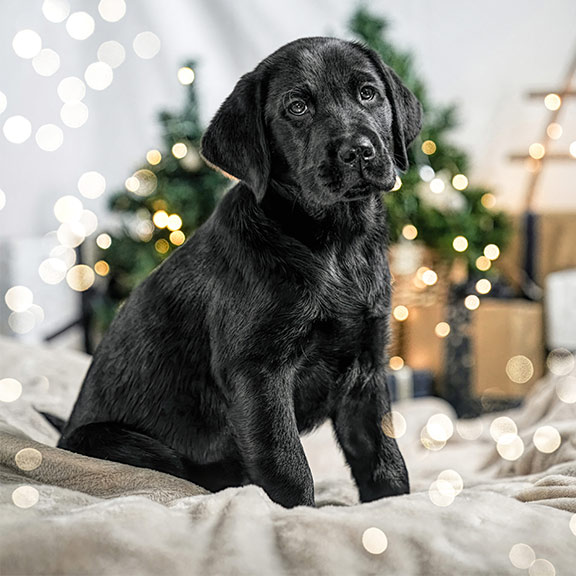 Meet Claus - a future 'Guiding Star'
Last year, thanks to Guiding Stars donations, we were able to name an extra special guide dog puppy, called Claus. He is currently having lots of fun and learning specialist skills with his Puppy Raiser and has an important future ahead of him! As a guide dog, Claus will change the life of someone with sight loss, helping them to live the life they choose.