Great Guide Dogs Virtual Tea Party
We are officially the Guinness World Record title holders for the biggest virtual tea party!
Join us for our new series of Great Guide Dogs Virtual Tea Parties in July – Meet Guide Dogs!
When a community comes together, something incredible happens.

As we all face the challenge of self-isolating at home, it's never been more important to come together online and support one another.
That's why on Tuesday 21 April – National Tea Day, Guide Dogs hosted a virtual tea party to bring some joy to the nation over a cuppa.
Thousands of people joined in on Facebook and enjoyed videos and photos of all things Guide Dogs. To top it off we set a new Guinness World Record title for the world's biggest virtual tea party of 4021 unique photos of people enjoying a cuppa!
Some of the country's most loved celebrities showed their support by sending in a photo of themselves with a cuppa. Martin Clunes even did a live national television interview in his pyjamas to mark the occasion! Famous faces who supported on the day included Alan Titchmarsh, Sir Andy Murray and Dame Julie Walters.
Pam White, Fundraising Manager said: "Over the last few years our wonderful supporters have been hosting tea parties around the country on National Tea Day and donating the proceeds to Guide Dogs. In 2019, Great Guide Dogs Tea Parties across the year raised an incredible £60,000. Of course, we are in a very different situation in 2020 but we wanted to give everyone the chance to join our #GuideDogsFamily and make a difference. We are delighted at how many people have joined us in our attempt to break the Guinness World Record for the world's largest virtual tea party. It looks like we've smashed it and we're hopeful for official verification of this very soon.
By asking people to donate the cost of their cuppa we're raising vital funds to help ensure people with sight loss don't feel alone now, and in the future. We completely appreciate that this is an extremely difficult time for many charities and we are so grateful to all our donors who continue to show their support."
Missed the party?
You can still head over to our event page and see all the amazing posts from across the day:
Over 5000 photos of people joining in the world records attempt
Inspiring stories from guide dog owners
A host of celebrities enjoying a cuppa and sharing recipes
Fun activities for the kids including how to make your own blindfold
Story time online from one of our lovely speakers
Why your support is so important
Through this unprecedented period of isolation, we're all beginning to understand what it's like to have our lives suddenly limited.

Guide Dogs exists to help people with sight loss live the life they choose. Our services give people the confidence to get out and about safely – from our life-changing dogs, the support of our sighted guide volunteers, to the skills we provide to children and families.
Priya's story
Although Priya (pictured right) was diagnosed with Retinitis pigmentosa in primary school, it was not until her daughter Lucy was born that she faced the challenge of adjusting to life as a new mum with a vision impairment.
She'd spent her life up to that point trying to manage and conceal her vision impairment.
Her first guide dog Sidney gave her the confidence to go out and do everyday things, like picking Lucy up from school.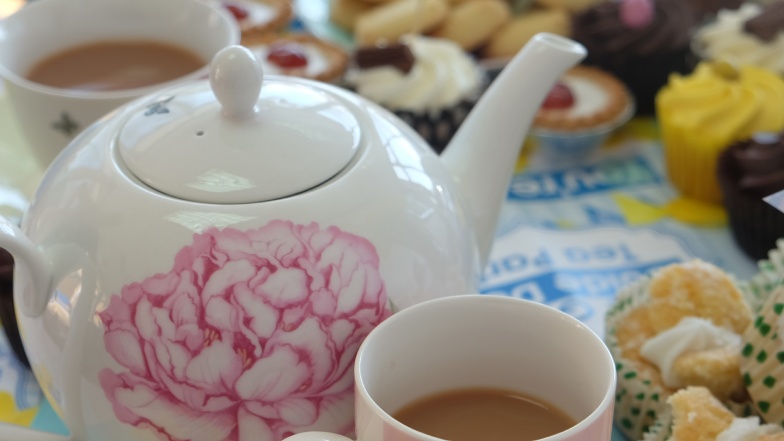 Donate your cuppa
We appreciate that times are really difficult at the moment, but for people with sight loss, social isolation can be their everyday.
So, whether you enjoy a builder's brew or a loose leaf, donate the cost of your cuppa today and help them feel less alone, now and in the future. Thank you!