Great Guide Dogs Virtual Tea Party
Join us on 21 April for the world's biggest virtual tea party on National Tea Day!
When a community comes together, something incredible happens.
As we continue to face the challenge of social distancing, at home and at work, it continues to be important to come together online and support one another.
Yet again, we all need something special to look forward to. That's why on Wednesday 21 April – National Tea Day, we're hosting the world's largest virtual tea party (again!) and everyone is invited.
Join us for a virtual cuppa as we celebrate our expert staff, volunteers and life changing dogs who despite everything else going on, remain committed to helping people with sight loss lead the life they choose.
Host your own Great Guide Dogs Virtual Tea Party
Plan your own virtual tea party – with family and friends, co-workers or maybe your community group who are unable to get together in person?

Complete our simple form to let us know your plans and access our free virtual tea party resources packed with ideas to make your virtual party fun for everyone!
Join the World's Biggest Tea Party
Join us on Wednesday 21 April to celebrate National Tea Day and help us smash our Guinness World Records title for the 'World's Biggest Virtual Tea Party'!

Go to our Facebook event page and click 'Going'. Then on the day, between 3pm-4pm simply post a photo of yourself with a cuppa. If circumstances allow, please donate the price of your cuppa.
Pam White, Fundraising Manager said: "Over the last few years our wonderful supporters have been hosting tea parties around the country on National Tea Day and donating the proceeds to Guide Dogs. In 2019, Great Guide Dogs Tea Parties across the year raised an incredible £60,000. Of course, we are in a very different situation in 2020 but we wanted to give everyone the chance to join our #GuideDogsFamily and make a difference. We are delighted at how many people have joined us in our attempt to break the Guinness World Record for the world's largest virtual tea party. It looks like we've smashed it and we're hopeful for official verification of this very soon.
By asking people to donate the cost of their cuppa we're raising vital funds to help ensure people with sight loss don't feel alone now, and in the future. We completely appreciate that this is an extremely difficult time for many charities and we are so grateful to all our donors who continue to show their support."
Register for your free tea party pack today!
Register today for your FREE tea party pack where you'll find everything you'll need to help make your event a success. Can't wait to start planning? Once you've signed up you can download our fundraising guide straight away which is full of ideas and inspiration.

We will use your personal information, provided below, to process and contact you about your registration.

Fields marked with '*' are mandatory.
Why your support is so important
Through these unprecedented changes to our way of life, we're all beginning to understand what it's like to have our lives suddenly limited.

Guide Dogs exists to help people with sight loss live the life they choose. Our services give people the confidence to get out and about safely – from our life-changing dogs, the support of our sighted guide volunteers, to the skills we provide to children and families.
Priya's story
Although Priya (pictured right) was diagnosed with Retinitis pigmentosa in primary school, it was not until her daughter Lucy was born that she faced the challenge of adjusting to life as a new mum with a vision impairment.
She'd spent her life up to that point trying to manage and conceal her vision impairment.
Her first guide dog Sidney gave her the confidence to go out and do everyday things, like picking Lucy up from school.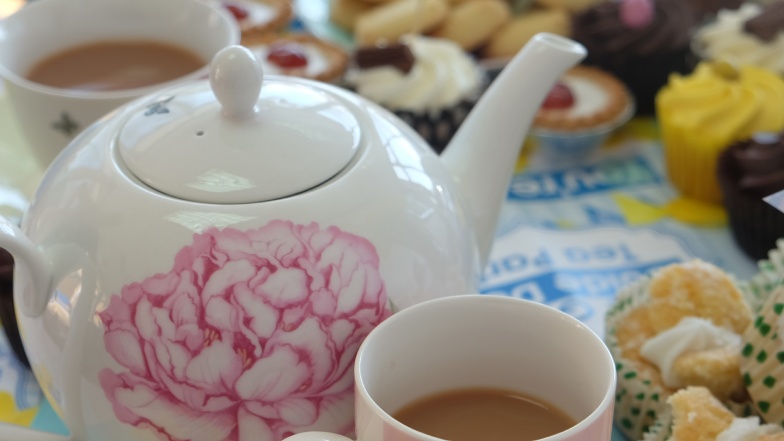 Donate your cuppa
We appreciate that times are really difficult at the moment, but for people with sight loss, social isolation can be their everyday.
So, whether you enjoy a builder's brew or a loose leaf, donate the cost of your cuppa today and help them feel less alone, now and in the future. Thank you!