The 12 Guide Dogs of Christmas Collection
About the 12 Guide Dogs of Christmas Collection
This Christmas we need your help, as Guide Dogs remains committed to supporting people with sight loss across the UK. To stay safe while we all follow government guidelines, our local fundraising groups have been unable to carry out thousands of collections planned across the UK.
We rely on donations from the public to keep our life-changing services running - less than 1% of our income comes from government funding.
December is always a great time for us to collect with everyone in the festive spirit. We know you really enjoy meeting our 'four-legged' fundraisers and they will be especially missed this Christmas. So, our 400+ fundraising groups and thousands of volunteers - from Perth to Plymouth and everywhere in between, are coming together to try to raise enough to fund 12 new guide dogs this Christmas!
There are so many ways to fundraise safely, here's just a few ideas to get you started:
Christmas Quiz – we've got all the seasonal questions you need to be the perfect Zoom quiz host, including a downloadable celebrity sound round. Ask friends, family or colleagues for a small donation to take part. Why not use a local takeaway voucher as the prize, you'll then be giving back to a local business too?
Festive Windows – download and print one of our doggy in the window posters. Each poster can be coloured in and helps spread the word of how we need urgent donations to support people with sight loss this Christmas. Get the kids to colour in extra and ask every house in your street if they want to display one for a donation to your fundraising page.
Christmas Tea Party - grab your festive treats and catch up with friends and family online? It is a great excuse to indulge in extra mince pies or taking on a festive themed baking challenge. Use our downloadable puppy Zoom background during you call and ask your party guests to donate the cost of their favourite Christmassy cuppa.
Festive Hat or Jumper Days – at work or at school, get everyone wearing their Christmas hats and jumpers for a suggested donation of £1. It is a great way to have some fun and get in the Christmas spirit.
E Cards – send a festive online greeting this year using our free Guide Dogs eCard. Donate the price of cards and stamps you would normally have bought for friends and family. You can also set up a fundraiser and ask your loved ones to not buy a card for you too this year and make a donation to Guide Dogs instead.
Whatever you choose to do, set up your fundraising page today on JustGiving and one of our team will contact you via email to ensure you get all the downloadable resources you need to kick start your fundraising for Guide Dogs.
Every penny counts
We know times are difficult at the moment, but for people like Steve living with sight loss, social isolation can be their every day. Together we can transform a life like Steve's this Christmas!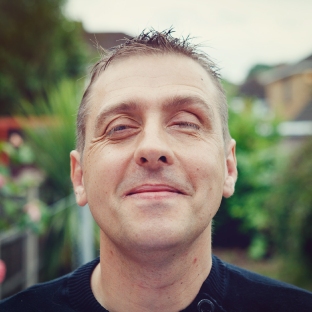 'The old Steve is back and more'
Steve was diagnosed with glaucoma, but enjoyed 95% of his vision and a normal life. Until one day we woke up and was blind. He lost his job and his partner and found himself in a very lonely place.
After two years of failing to cope on his own he finally got a social worker. He started using a white cane. It wasn't particularly successful but it was a start. Then one day his social worker asked Steve whether he'd ever considered a guide dog.
The effect on Steve's life was pretty much instant. With his guide dog May by his side he felt freer than he had for years. He could go out by himself. His family soon got used to his new-found independence and stopped following him at a distance, just in case something went awry.
With his new found confidence Steve tried internet dating and met his new love, Nikki.
Social media content ideas
Posts for Facebook and Instagram
The 12 Guide Dogs of Christmas Collection hopes to raise enough this December to fund 12 new guide dogs! Covid-19 restrictions have impacted Guide Dogs' ability to collect so I am supporting the 12 Guide Dogs of Christmas Collection instead to help raise funds for 12 new life-changers. You can help too <insert Justgiving page >
In these uncertain times Guide Dogs have adapted their services to continue to help those with sight loss. Please help them raise enough for 12 new life-changing dogs this Christmas and donate here <insert Justgiving page >
Tweets
I'm supporting Guide Dogs by joining their 12 Guide Dogs of Christmas Collection so they can raise enough for 12 new life changers! Please support me and donate to my page at: < Insert Link>
Get in touch
If you choose to fundraise towards our '12 Guide Dogs of Christmas Collection' this December, our team are here to provide support and advice you may need to ensure your fundraising is a success.
fundraiseforus@guidedogs.org.uk