Our dogs are bred and trained to work as guide dogs and we're delighted that the large majority of them qualify. However, some of our dogs are not made for guiding but would make great pets. Our qualified guide dogs might also need a new home once they have reached retirement with their guide dog owner.
We know it can be difficult to decide whether to rehome a dog from Guide Dogs or to adopt from an animal shelter. By rehoming from us you:
Are providing a loving home to a dog.

Find a wonderful new family member who will bring joy.

Know previous information on your new dog's health and behaviour.

Support our goal of helping people with sight loss.
Historically many applicants have been looking for a "perfect dog" and this means we are not able to find the right dog for you. We'll always explain a dog's history and any issues to you so we appreciate the flexibility and experience of owning a dog with some complexities in applications.
Our dogs are typically being trained when they are between one to two years old, and this is often the time when we discover which dogs are likely to qualify and which dogs are not made for guiding. We also offer the ability to adopt a senior dog as not all our older dogs will stay with their guide dog owner. On rare occasions, we also need to rehome guide dogs who retire early.
If you're looking for a dog rehoming centre near you in England, Wales, Scotland or Northern Ireland, you might be the perfect forever home for one of our dogs.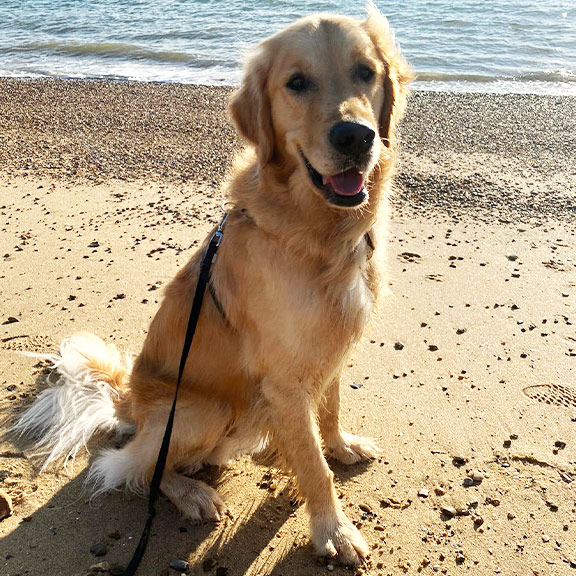 Could I be your perfect match?
Greg is a four-year-old Golden Retriever. He would benefit from training sports like agility, hoopers or scent work. Greg has poor recall in busy areas, so a home that has rural walks would be ideal. He needs a home with no other pets or children under 15. When socialising with other dogs Greg can display some friendly barking and pulling on the lead. With gradual introductions to the right dog, he can play nicely off lead. Greg travels well in a car and can be left home alone for 2-3 hours a few times a week. The rehomer would be willing to travel to Southeast of England to meet him.
Is rehoming a dog right for me?
We spend a lot of time within our rehoming service making sure our dogs get the best match. We'll help you consider everything involved in adopting a dog, so we can be sure to get it right for both you and our dogs. Due to high demand, we're more likely to have a suitable dog if you can be flexible with the breed, type of behaviour or veterinary needs your dog may have, or if you're interested in rehoming a German shepherd.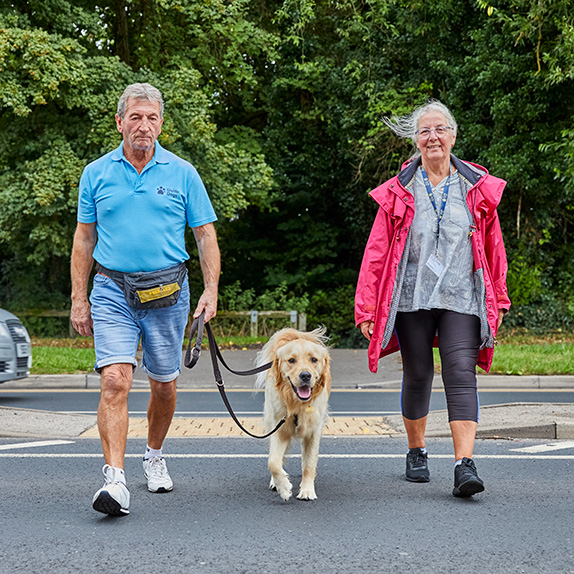 Become a dog-focused volunteer
If our rehoming service doesn't sound quite right for you or you want to try out looking after a dog, you may be interested in one of our dog-focused volunteer roles. Volunteering as a puppy raiser or fosterer is a great way to support our work. If you become a foster home, you'll receive guidance on your dog's health and behaviour from our experts, and you won't have to worry about the financial costs of being a pet owner. If you'd like to find out more