The wellbeing of our dogs is at the heart of everything we do. Giving your dog the very best care helps them live a long, happy, and healthy life.

Our dog health and wellbeing experts have shared tips and advice on how to look after your dog at every stage of their life, based on 90 years of working with our guide dogs and putting their health and wellbeing first.
Health and wellbeing
Taking care of your dog's health and wellbeing is important. From daily health checks, grooming techniques, and older dog care, we have advice and guidance to support both you and your dog.
How we care for our dogs
Hear from Tim, Director of Canine Affairs, Caroline, Veterinary Surgeon, and Shannon, Veterinary Nurse to learn how we ensure our dogs stay healthy and happy throughout their lives.
Seasonal
As the seasons change, your dog will be exposed to exciting new sights, sounds, smells and adventures. Our tips will help keep your dog healthy and happy throughout the year.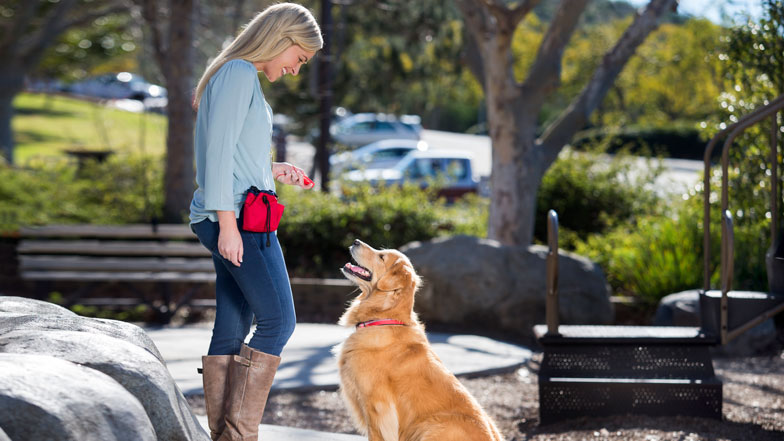 Explore the Guide Dogs Shop
Our Guide Dogs Loves range of essential dog accessories has been handpicked by our experts. We recommend these products for our own dogs, and they're perfect for pet dogs too!
Safety and security
Your dog is part of the family, and it's vital you protect them from harm. Explore our tips to help you and your dog feel safe and secure throughout your life together.
Training and behaviour
Every dog is an individual so it's crucial to take the time to learn about your dog's unique behaviours and personality. Read on to learn how developing a deeper understanding of your dog will help you build a stronger bond.
Enrich your dog's life with Good Dog!; our pet dog training and welfare subscription for dogs of all ages.
You may also be interested in...