Learning to use tongs and tweezers
These activities are for children aged 3-4 years.
What you'll need
Egg box or ice tray, coloured pompoms, tongs, tweezers
Tips
When considering colours and contrast, use those which most support your child's needs. You may also want to consider completing the activity under good task lighting, which can be adjusted to suit your child. You may find it easier to work over a tray so any dropped pompoms can be easily found.
Activity
Using an egg carton or ice tray, simply paint one side of the casings a variety of colours and allow to dry completely.
Pour pompoms into one side of the egg box and ask your child to sort the pompoms into the correct coloured sections, firstly using the tongs.
Once your child has mastered the task you could make it harder by using tweezers.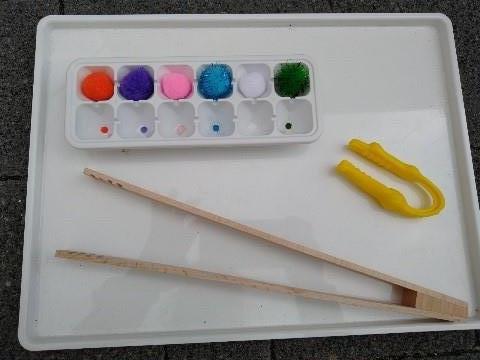 Need to print this?
Download a PDF version of the activity below.
In this section
Learning to use tongs and tweezers