Swim100 is your challenge, your way! Whether you're swimming 100 lengths or 100 miles, get creative and hit the water wherever you love to swim.
Want to be a Swim100 superstar? Why not join us for all three challenges this year in January, May and October and set a challenge for the whole year. It's free to register and we encourage you to raise £100 for Guide Dogs.
Joining the challenge couldn't be easier
Register for free online, as an individual or in a team
Get creative and choose your challenge based around the number 100
Fundraise £100 for Guide Dogs' life-changing work for people and families living with the effects of sight loss
Claim your fundraising reward
As a thank you to our amazing Swim100 participants, we are offering special rewards for your fundraising efforts.
Swim100 locker coin keyring
Guide Dogs are giving away branded Swim100 locker coin keyrings to the first 250 Swim100 participants to raise £50.
Guide Dogs are also giving away branded Swim100 towels to the first 350 Swim100 participants to raise £150 or more.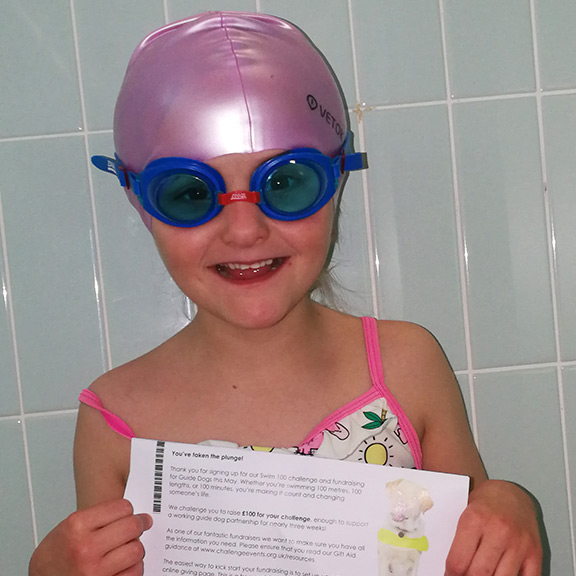 Zannah's challenge: 100 minutes of swimming (without arm bands!)
Zannah has a special connection to Guide Dogs, as she is visually impaired herself.
A true swimming super star and inspiration, Zannah swam for 100 minutes without arm bands. Friends and family all supported her challenge and helped Zannah raise over £700 for her challenge on JustGiving.
"Zannah had lots of fun doing her swim as she loves swimming and is like a little mermaid" - Zannah's Mum Angie.
Get inspired
Join the community online by sharing your story using the hashtag: #Swim100. Why not join the Make a splash-Swim100 challengers group on Facebook to share ideas and support fellow Swim100 challengers!
Need some advice on preparing for Swim100? Our training guide document below has options for all abilities
Swim100 fundraising downloads
Got a question?
You might find the answer in our Swim100 FAQ's available to download above. If you need help or can't find what you're looking for, please don't hesitate to contact us using the details below.