Make Every Day Count
Help children and young people with visual impairment
Today, a child will crawl for the first time. Today, a teenager will need support with school. And today, around four children in the UK will be registered as blind or partially sighted.
Each year, over 1,000 families will be told their child is losing their sight.
Living with a vision impairment shouldn't stop anyone from doing the things they love – especially children and teenagers. But for a new parent with a toddler struggling, or a teenager too afraid to go outside, it can be hard to know where to turn.
What is Make Every Day Count?
People tend to know us best for our guide dog service, but we are also the largest employer of specialists dedicated to helping children and young people with sight loss to learn, grow and access the same opportunities as everyone else.
Make Every Day Count raises much-needed funds through monthly donations to help children and young people get the support they need to thrive. From supporting physical development and exploring the world without relying on sight in the early years, to navigating streets safely, preparing food, and using technology as they grow older – every penny raised goes directly to funding these essential services.
In return, our supporters will receive regular updates on how their donations are changing lives, hearing from the children and young people who have benefitted from these services, plus their families.

We need your help to support more children and young people with visual impairment
What your donations could help fund
In 2022...
We helped 805 children with a vision impairment learn essential life skills.

We partnered 52 children and young people with a buddy dog to help improve their confidence and wellbeing.

We gave 2,500 iPads to children and young people as part of our digital assistance programme Tech For All.
How you can help children and young people with sight loss
We rely on the generosity of donations to keep providing our essential services. With your help, we can support children and young people with vision impairment - helping them gain access to whatever they may need to thrive.
When you sign up to a Make Every Day Count regular donation, we will send you...
A certificate to recognise your incredible support of children and young people with sight loss.
A magnet frame to add your own photo to, and remind you to make every day count.
Seasonal updates on how your monthly donations are changing lives.
FAQs
We are always receiving interesting questions about Make Every Day Count, some of which can be found below and on the FAQ page. If you still have questions please visit get in touch with our Supporter Care team by emailing guidedogs@guidedogs.org.uk or calling 0800 953 0113.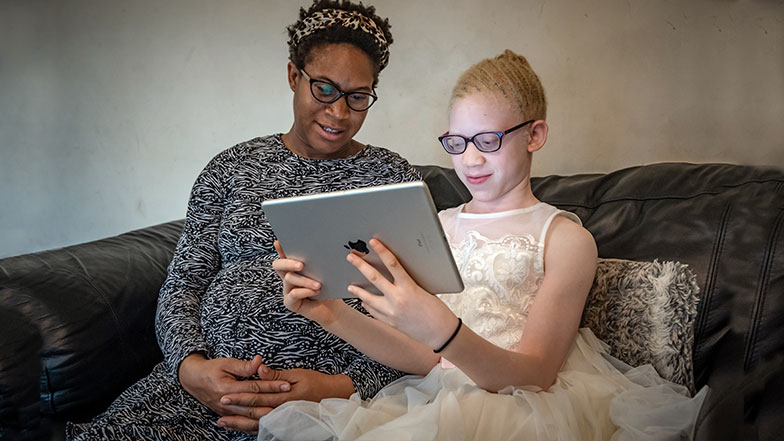 For as little as £1 a week... 
Make every day count for a child or young person with sight loss by helping to fund Guide Dogs' expert playgroups, one-to-one learning, and the personalised support needed to develop.