Join us for our Christmas Wishes Concert - 2023's most heart-warming celebration, with special guests and live performances! Get involved by coming along to the live concert in Manchester or cosy up on the sofa and tune in from home.
Soak up the atmosphere as you enjoy inspiring stories and festive readings from our celebrity guests, sing your favourite carols and listen to live music. All while helping raise vital funds to help children and adults living with sight loss live the lives they choose.
Get your tickets for the live event at Manchester Cathedral, or for the virtual event where you can watch the live stream from home.
This wonderful night of yuletide cheer will be one of the go-to events of the Christmas season.
Alongside our Carol Concert we are running our annual silent auction, take a look at the event details below of how to get involved.
Make wishes come true. Buy your ticket today.
Come along for an evening of guest appearances and live music
Event details
Date: Tuesday 5 December 2023

Venue: Manchester Cathedral, or live stream from home

Time: 7:30pm – 8:30pm. Doors open at 6:45pm, and all guests are to be seated by 7:15pm.
Ticket options
General admission: £24 standard rate
Virtual ticket: £12 standard rate
Information for the in-person event
Transport: The nearest train station is Manchester Victoria, and the closest tram stop is Exchange Square. The nearest car park is Q-Park Deansgate North, 2 Chapel Street, Manchester M3 7WJ. Discounted parking is available if you pre-book. Enter the code of MC1421 to receive a further 10%.
Venue access: Step-free access is through the Cathedral's South Entrance, access from Cathedral Yard.
Services: At the venue there will be volunteers on hand to support with sighting guiding and dog welfare. There will be an accessible toilet and spending area. If you have a confirmed accessibility request, please head to the Customer Services desk on arrival. If attending with a dog, ushers will do their best to ensure appropriate seating, and priority will be given to working guide dogs. You may wish to bring a mat for dogs as the cathedral floor will be chilly.
Information for the live-stream event
Digital platform: YouTube (includes a closed caption option)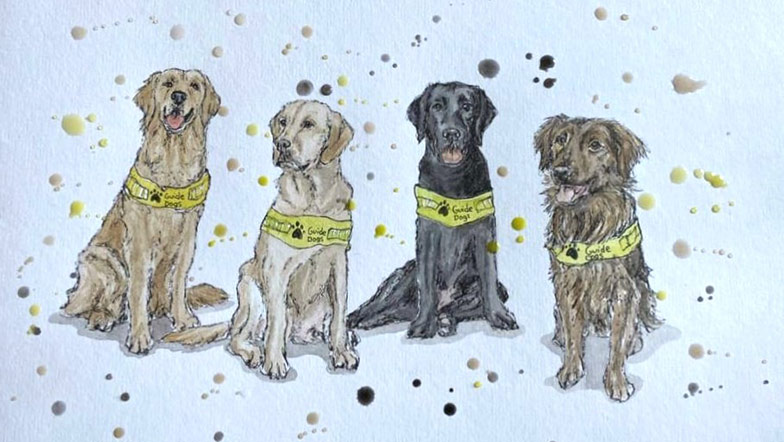 Join our silent auction
Celebrate Christmas with us and be in with a chance of winning exciting prizes! Through bidding on your favourite items you can raise vital funds to help people living with sight loss live the lives they choose.
The online auction will close at 9pm on Tuesday 5th December 2023.
How your ticket sales and donations could make a difference
Every six minutes one more person, in the UK, loses their sight. Your support makes sure we can be there for children and adults with a vision impairment. Here's how your ticket makes a difference:
£6 could support a working guide dog partnership for a day.
£16 could buy a 'puppy in training' coat for one of our guide dog puppies.
£51 could buy a tailor-made, large-print book for a child with sight loss, so that they can enjoy reading just like their friends.
£237 could buy a child with a vision impairment an iPad, to help them with their education and transform their learning experience.


Need some help or further information?
To book a complimentary carer ticket or if you require any assistance with your booking, please contact our Events Team.
Please note, some of the images on this page have been made to look more Christmassy with the help of generative AI.