Large print children's books
We don't believe a vision impairment should stop you, or your child, from knowing the joy of reading. That's why our CustomEyes Books in large print give them the chance to read a real book, just like everybody else.

From Dr Seuss to Shakespeare, from inspirational fiction to educational textbooks, we have over 4,200 large print books available – and counting. Each one is custom made, with font size, spacing, colour and more all tailored to your child's individual needs.
How do I order CustomEyes Books?
Become a CustomEyes Books member by filling in an individual or schools and services form.
Take a look at our range of books in our online shop, where you can then place your order. This is also where you can tell us how you'd like your book customised. Please note that you will need to create an account and be logged in to place an order and have full access.
We'll send your CustomEyes Books to enjoy in about two to three weeks, depending on the size and volume of orders being placed at that time.
Why order CustomEyes Books?
CustomEyes Books for a child with sight loss and/or dyslexia means children and young people can have exactly the same books as their friends and classmates. This not only helps them keep up at school, they can share books with friends too.
If your child is not comfortable using a magnifier, or gets tired using a screen, they can pick up a real book and still enjoy reading and learning.
Becoming a CustomEyes Books member is easy and completely free. And thanks to a generous Guide Dogs subsidy, all large print books are available at the recommended retail price, regardless of format.
Frequently asked questions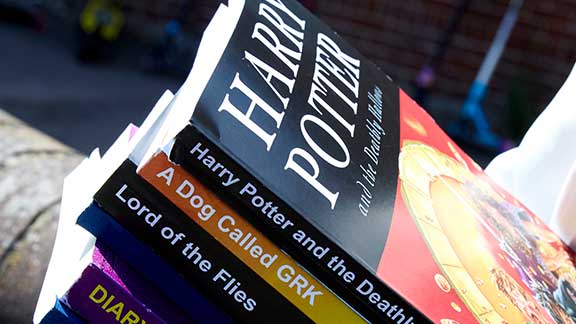 CustomEyes Books shop
After becoming a CustomEyes Books member, buy your custom-made books for RRP on our online shop. From Dr Seuss to The Hunger Games and Harry Potter to Shakespeare, we're sure to have something for you or your child.

Do you need help?
If you've got any more questions, or suggestions on how to improve our large print books, call or email us