With your help we can make a difference...
Make a major gift
By working with the Major Relationships Team and investing in Guide Dogs you can help us reach significantly larger numbers of visually impaired people who need our support – both through our trained dogs, and through other initiatives that enable those with sight loss to get out and about on their own terms.
At Guide Dogs we form long-lasting relationships with our key supporters. We take the time to really understand how you want to help with our work and ensure that we direct your support to the project or service that is of the most interest to you. You can trust that your gift will be life changing to people of all ages living with sight loss.
We'll provide information demonstrating what your contribution has enabled us to achieve, and as a major supporter of Guide Dogs you truly have the chance to make a difference to the lives of people living with sight loss.
Benefits of making a major gift
A personal Guide Dogs contact
Our Major Relationships team works with people who donate gifts of £5,000 or more. When you make a donation at this level, one of our team will contact you personally. We'll discuss your areas of interest and any information you'd like to receive about our work.
Choose how your gift is used
We offer a variety of vital services which you can choose to support including guide dogs, Children and Young People's Services and sighted guiding. If there is a particular aspect of our work that you're keen to support, we'll help ensure your gift is directed there.
There will be opportunities to visit a particular project or a Guide Dogs site like the National Breeding Centre, where you will see first-hand the difference your gift is making to people living with sight loss.
The Guide Dogs Major Relationships Team organises small social events, meetings and visits to sites and projects throughout the year. These provide an opportunity for our Executive and Trustee Board members to thank you personally for your help and support, and gives you the opportunity to find out more about the important work that we do, as well as meeting other like-minded supporters.
We produce personal and bespoke updates that are tailored to your chosen interests and we'll also keep you informed of any interesting news, research or campaigns that we're working on.
Get in touch
If you are interested in donating £5,000 or more, please contact Beatrice Crestini, our Major Donor Fundraiser, to discuss your interests.
beatrice.crestini@guidedogs.org.uk
Donate shares
As well as donating gifts of money, you may wish to make a difference by gifting shares.
You won't have to pay any capital gains tax on the shares you donate and you can claim income tax relief too
If you are a higher rate (40%) taxpayer you will be able to claim income tax relief equal to 40% of the value of the gift
If you are a highest rate (50%) taxpayer you will be able to claim income tax relief equal to 50% of the value of the gift
In order to qualify for the tax relief, the shares or securities must fit one of the following:
Listed or dealt on a recognised UK or foreign stock exchange
Units in authorised unit trusts
Shares in a UK open-ended investment company
Holdings in certain foreign collective investment schemes
Please note:
Guide Dogs is unable to offer advice on personal tax issues. So if you are unsure of your tax situation, we recommend that you speak to a financial advisor or contact the HM Revenue & Customs helpline on 0845 900 0444, or visit their website.
Trusts and Foundations
Working together with trusts and foundations enables Guide Dogs to provide transformational services for people who are blind and partially sighted. We truly appreciate all our supporters donating through their trusts and foundations and a gift of any size can be put to work as soon as we receive it. Our long-term relationships with trusts and foundations, communities and partner organisations mean that our services are sustainable, effective and address the needs of people with sight loss.

Our experienced Trusts team will work with you, offering a bespoke experience keeping you involved at every stage, be it funding a project, a programme or service delivery. We can help you decide the most relevant funding area which is appropriate to your trust and, will keep you fully informed of how your gift is transforming lives with regular updates. We particularly welcome unrestricted donations, which are invaluable to our work and can be used where the need is greatest.

In 2019 donations from Trusts and Foundations have funded mobile dog units, guide dog training, breeding guide dogs, adult mobility sessions, CustomEyes our children's book service, family recreational days and many community based and national one-off projects.

If you are a Trustee, or know a Trustee of a relevant trust or foundation we would love to speak to you about how you can get involved in our work. To discuss this,
Get in touch
Please contact Sue Muttock, Trust Manager to find out more about giving through a charitable trust
Payroll Giving
What is Payroll Giving?
Payroll Giving, or Give as You Earn, is a great way to support Guide Dogs directly from your salary and make a difference.
You simply choose how much you would like to donate each month and we receive your charitable donations via your employer before you are taxed. So, you get immediate tax relief on your donations!
I am an employee
Why sign up to Payroll Giving?
Payroll giving allows you to give directly from your salary before tax is deducted. For example, if you would like to donate £10 to Guide Dogs it will only cost you £8 if you are a standard rate taxpayer (20%), and £6 if you are a higher rate taxpayer (40%). This means that the money you donate to Guide Dogs will go even further to help people with sight loss live actively, live independently and live well.
To donate to Guide Dogs through Payroll Giving please speak with your employer's HR department directly.
| | | | |
| --- | --- | --- | --- |
| Your payroll giving donation pledge to Guide Dogs | £5 | £10 | £15 |
| As a 20% tax payer you pay | £4 | £8 | £12 |
| As a 40% tax payer you pay | £3 | £6 | £9 |
Did you know…?
Donating £5 could support a working guide dog partnership for a day.
Donating £7 could buy a puppy lead to help our volunteer puppy walkers start training the next generation of guide dogs.
Donating £25 could buy two sensory toys to build the self-confidence and self-esteem of a child with vision impairment.
What are the benefits of Payroll Giving for you?
• Donations are deducted before tax is calculated, so you receive immediate tax relief when you donate to Guide Dogs through your Payroll.
• It's an easy and efficient way to support Guide Dogs.
• It's secure – you do not need to disclose any bank details as there are no Direct Debits or standing orders to set up.
Not sure if your employer has a Payroll Giving Scheme?
Please visit Geared for Giving who can inform you if your employer has a scheme. Geared for Giving also offers advice on how to set up Payroll Giving in your workplace if your employer does not currently have a scheme.
I am an employer
Why support Payroll Giving?
Payroll giving allows your employees to give in a tax-free way directly from their salary. This means that the money they donate to Guide Dogs will go even further to support our life changing services.
What are the benefits for you as an employer?
• Having a payroll giving scheme can play an important role in your company's Corporate Social Responsibility programme.
• Payroll Giving shows your support, as an employer, for the causes that matter to your employees, especially if you match donations – also known as matched giving.
• You will be eligible to receive a Payroll Giving Quality Mark, which can offer a great boost for staff morale!
Interested in setting up a Payroll Giving Scheme as an employer?
Please visit Geared for Giving to find advice on how to set up Payroll Giving in your workplace.

If you have a Payroll Giving Scheme in place but are looking to expand your scheme, you can speak with a Professional Fundraising Organisation (PFO) who will help you promote Payroll Giving within your organisation. More information about this can be found at Geared for Giving.
More information about Payroll Giving can be found by visiting our FAQs.
eBay for charity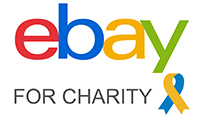 When selling an item on eBay you can donate a proportion of the final sale value to Guide Dogs. The amount you wish to donate is up to you.
To sell on eBay and donate
Register with eBay to start selling
List your item
Choose what portion of your final sale value goes to your charity
Further information can be found on eBay for charity.
Buy Guide Dogs items
You can support us when shopping by buying items marked with the eBay for Charity ribbon and sold in aid of Guide Dogs. To find those items visit our eBay shop.
Donations at checkout
When you pay on eBay for an item you've won, you have the option to add a small donation to a featured charity. You can choose which charity you see at checkout on the "My Favourite Charities" page within your account.
Wedding favours
Looking to do something for charity as part of your big day?
Guide Dogs offers a beautiful range of wedding favours to put a smile on your guests' faces. From handwritten cards, to pins and cuddly toys, our range of goodies raise money for a good cause and impress guests.
You'll also receive a personalised certificate to display at your reception venue to show you're supporting Guide Dogs.
Find out more and complete our form on our dedicated wedding favours page.