Sponsor a puppy
As a gift or for yourself
Sponsor a gorgeous guide dog puppy from just £1 a week, and watch them grow from an eight-week-old bundle of fur to a fully-qualified guide dog. It's a great way to support Guide Dogs, and every puppy's journey is unique! After 24 months of training, your puppy will give freedom and independence to someone with sight loss, giving you the chance to sponsor another new recruit!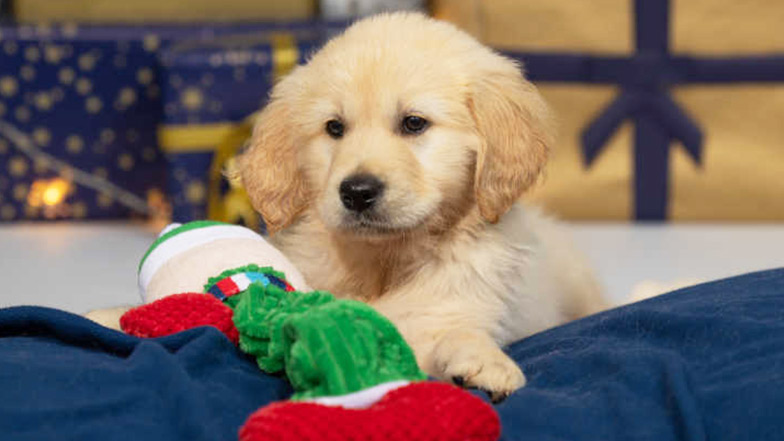 This Christmas, sponsor a puppy as a gift
The gift that keeps on giving, you can sponsor a guide dog puppy as a gift for someone special.

Simply select the 'as a gift' option on the Sponsor a Puppy page and complete the form to start their sponsorship journey for a unique charity gift – both for your loved one, and for people living with sight loss. We will send the welcome pack for your loved one to your address so that you can give it to them on Christmas day, after which they will receive regular 'Pupdates' about their guide dog puppy's progress!
Choose your puppy from one of the adorable recruits...
How your sponsorship will help change the lives of people living with sight loss
Your sponsorship contribution will help provide independence and freedom for the people we support. Right now, your money will be used where it's needed most. This could be anything from paying for puppy food to enabling the delivery of our wide range of services. Ultimately you will be helping people with sight loss to live the life they choose.
We rely on donations to continue our life-changing work. You can be certain that your donation will make a big difference.
Every hour, another person in the UK goes blind
180,000 people with sight loss rarely leave home alone
Almost two million people in the UK are living with sight loss. By 2050, there could be nearly four million
We rely on donations to continue our life-changing work. Every pound raised makes a difference to people in the UK living with sight loss
When you sponsor a puppy you'll receive...
Regular Pupdates via mail and email - following your puppy's journey
Access to your puppy's exclusive Facebook group
Photo album and photos of your pup
A personalised certificate
An adorable magnet
A gorgeous calendar at the end of each year
Are you a school, group or company?  Fundraise to Name a Puppy and become part of their life-changing journey.
More information on sponsoring a puppy
People are always asking us interesting questions about our Sponsor a Puppy scheme some of which we've answered below. More frequently asked questions and their answers can be found on the FAQ page. Further information can be found by visiting Sponsor a Puppy terms and conditions.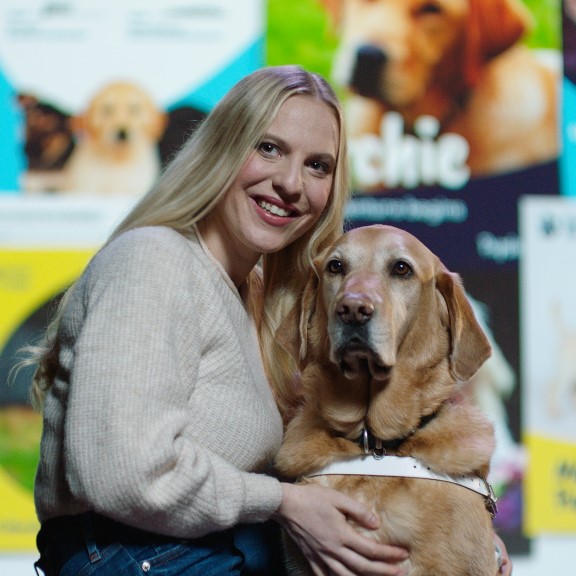 Stacey and Toffee
He's not just my eyes. He's my best friend, he's my soul mate.
Get in touch
Contact our Supporter Care Team (we're here 9am - 5pm, Monday - Friday).