In a nation of dog lovers, with over 12 million pet dogs in the UK, it's no wonder that our iconic guide dogs are so admired. Our life-changing dogs provide independence, mobility and companionship.
By partnering with Guide Dogs, your team can help vision-impaired adults, young people and children to live a more active, independent and fulfilling life through the support of these incredible animals.
Name a Puppy
Fundraising to Name a Puppy provides you with the wonderful opportunity to be at the heart of a guide dog puppy's story. As well as providing a puppy with the special gift of a name, you'll follow their journey as they aspire to become a future life-changer.
We have four different naming levels to choose from: Name, Raise, Train and Transform. Each one follows the puppy you have named to a different milestone in their training, and we'll send you images of your puppy and 'pupdates' on their progress along the way. Some of our naming levels even provide you with the opportunity to meet the puppy virtually or in person!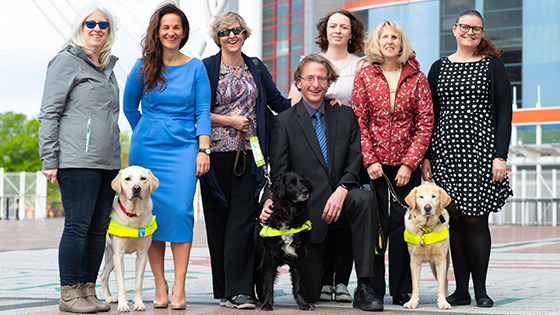 Blake Morgan LLP name a puppy
The team at Blake Morgan LLP got involved in numerous staff fundraising challenges and activities across a two-year charity of the year partnership to name a life-changing puppy.
Naming a guide dog puppy is an incredible fundraising achievement and will leave your team with a lasting legacy to be proud of.
Other unique opportunities to support our iconic dogs
We can provide many opportunities that make a difference in helping the life-changing work we do through our guide dogs, buddy dogs and guide dog mums and dads. From supporting these core services to funding specific projects or initiatives such as 'Born to Guide', we can work with you to explore the opportunities that best suit your goals.
Supporting a unique project focussed on our iconic dogs will help us transform the lives of vision-impaired people. It also provides an emotive and inspiring way for your organisation to engage with staff and customers.