The information below will tell you more about the Chairman and the Board of Trustees. For further details, please contact the Association Secretary by phone on 01189 838772, by post to the Central Office address or by email: guidedogs@guidedogs.org.uk.
Jamie Hambro - Chairman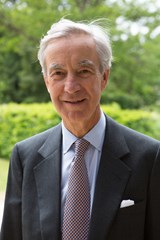 Jamie Hambro was appointed to the Board of Trustees in 2015.
Jamie is Chairman of James Hambro & Partners. He was an Executive Director of Hambros Bank, co-founder of the original J O Hambro Group and Managing Director of J O Hambro Magan before going on to found J O Hambro Capital Management. He was Chairman of Hansteen Holdings and a Director of Primary Health Properties plc and is Chairman of Wiltons Holdings Ltd.
Jamie was previously a Trustee and Chairman to the Henry Smith Charity, a large grant-making body for almost 25 years.
Amanda Ariss
Amanda Ariss was appointed to the Board of Trustees in 2012.
Amanda is passionate about the right of disabled people to live independently. She is an equality, diversity and inclusion consultant and a consultant partner of Equality Works Ltd. She is also studying for a History MA and is an occasional private chef. Amanda's executive career includes spells in broadcasting as Executive Director of the Creative Diversity Network, in the voluntary sector as Chief Executive of the Equality and Diversity Forum (now Equally Ours) and in the public sector as Head of Policy and Research at the Equal Opportunities Commission. She was awarded an OBE for services to equality in the 2015 New Year Honours list.

Amanda is an external member of the Law Society's Policy and Regulatory Affairs Committee, a Trustee of OperaUpClose and a volunteer usher at Southwark Playhouse theatre.
Paul Baker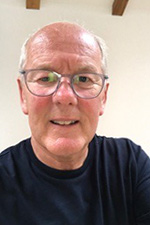 Paul Baker was appointed to the Board of Trustees in 2020.
Paul retired from a 40-year career in Banking in 2014 where he served as Chief Procurement Director, Chief Operations Director and finally Chief Property Director. He has an MBA gained at Warwick University and has served on a number of Boards in the commercial and charity sectors. He is currently Vice Chairman of a Property Services Group and a Trustee at the Leonard Cheshire Charity for the disabled.

Paul lost his sight in one eye in 2015. He lives in Oxford and Cornwall with his wife Jennifer and their two dogs.
Clare Black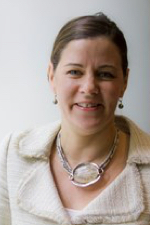 Clare Black was appointed to the Board of Trustees in 2013.
Clare has personal knowledge and experience of being a parent of a blind child as her eldest son, who has just graduated from university, has been blind since birth. She is passionate about ensuring that visually impaired children and young people are provided with the correct support to allow them to reach their full potential and live an independent life.

She works at FinTech industry body Innovate Finance as Director of Corporate Affairs & Communications, and is also a financial derivatives markets consultant for the past 11 years at Contango Markets. Prior to this, she worked at Reuters for 14 years.

Clare is also a Trustee of Blind Children UK (Formerly the National Blind Children's Society) and sits on the Audit & Risk, Investment and Nominations Committees. Clare lives with her husband, Clive, and sons in Surrey. She enjoys running, surfing and travelling the world for work and with her family.
Kate Crofts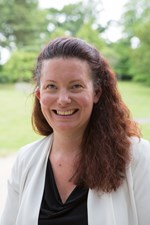 Kate Crofts was appointed to the Board of Trustees in 2018.
Kate has been an energetic advocate for equality and inclusion, in particular the rights of disabled people, for many years. She is qualified in social sciences, communications and leadership and her career in local government includes facilitating complex partnerships and embedding whole system working across communities, ensuring strategies and initiatives have inclusion built into them at every level. Kate's other achievements have included co-founding a community interest organisation which offers advice and support to mothers who have visual impairment.

Outside of work, Kate enjoys a busy family and social life with her husband and two teenage children. Kate is on the waiting list for her second guide dog.
Rob Deakin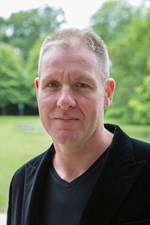 Rob Deakin was appointed to the Board of Trustees in 2018.
Rob is a Partner at Capco, a Management Consultancy, which provides advice on technology and delivering business change initiatives to FTSE 100 and Fortune 500 companies. He is a Chartered Engineer (CEng) and Fellow of the Institution of Engineering and Technology (FIET). He has previously worked for a range of charities in India and southern African countries developing social enterprise business models.

During the past ten years he has been a fosterer (formerly called a boarder) to four Guide Dogs in training. This experience has served as inspiration for numerous fundraising adventure challenges, including swimming the English Channel solo and running the London Marathon three times.

Rob lives in Brixton, South London and is a Bob Dylan fan.
Lynne Hill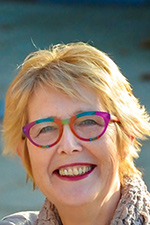 Lynne Hill was appointed to the Board of Trustees in 2020.
Lynne is a veterinary surgeon by profession with more than forty years of experience in practice, industry and academia. Lynne has been involved with a number of veterinary organisations including BSAVA where she became the first female President, and the BVA - sitting on a number of committees and their Council. She has also been involved in a variety of charities throughout her life and has chaired the International Care charity since 2019.

Lynne lives in Somerset and has three grown up children. She enjoys walking in the countryside and abroad as well as gardening, travelling the world and learning more about the history of far off places. Reading and knitting also take a prominent role.

Mark Johnstone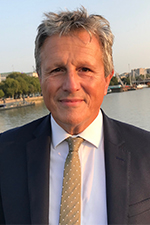 Mark Johnstone was appointed to the Board of Trustees in 2020.
Mark is a Chartered Accountant with extensive executive and non-executive experience in the not-for-profit sector. He is currently Chief Financial Officer of The Kennel Club, prior to which he was Finance Director of The Royal Society of Medicine. Mark is also a Trustee and Chair of the Audit & Risk Committee of leading disability charity, Scope, and has been a member of the Moorfields Eye Charity Audit & Risk Committee since 2016. In due course Mark will take over chairing the Guide Dogs Audit & Risk Committee.

Mark and his wife Debbie are experienced choral singers and live in Surrey where they enjoy walking with their working Cocker Spaniel, Flynn.
Dr Mike Nussbaum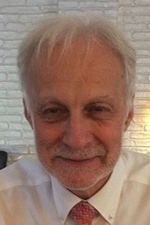 Mike Nussbaum was appointed to the Board of Trustees in 2012.
Mike's first career as a research chemist was cut short by failing eyesight, but Mike soon forged a second career in local government and public policy development. Mike worked with communities in some of the most challenging local authorities in the UK, initiating pioneering work in social inclusion and in urban regeneration and design. Since retirement Mike has taken on various roles in the national voluntary sector but particularly in promoting and developing the role of volunteering.

Mike also sits on the board of Shaw Trust and supports numerous other charitable organisations. Mike has also been Vice President of Volunteering England. As a young activist he was involved in a wide range of social action programmes and by 18 was chairing national youth organisations, arranging charitable fundraising events, and leading youth summer schools.

In 2005 Mike received a national 'Year of the Volunteer' Award for services to volunteering, and in 2008 The Open University awarded him an Honorary Doctorate in recognition of over 40 years of public service.

Mike is a Guide Dog Owner.
Michael Olaye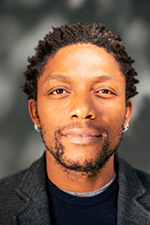 Michael Olaye was appointed to the Board of Trustees in 2020.
Michael is the Chief Growth Officer of International for The North Alliance (NoA), where he is responsible for leading expansion overseas, including supporting their collaboration ethics and industry thought leadership. Michael is also Chairman of SharpEnd, an "Internet Of Things" specialist agency located in London.

He served as the CEO and Group CTO at Dare and OLIVER respectively from 2016 to 2019 and has been recognised in the Financial Times' Top 100 BAME influencers 2018, The Drum's Digerati 100 and UK's BIMA 100 most influential.
In his spare time Michael mentors, helps up and coming industry candidates and supports local communities in London and Sweden, as a speaker, supporter and advisor. He is also an avid automotive enthusiast.
Polly Shute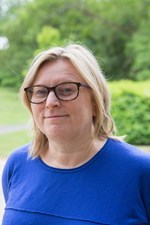 Polly Shute was appointed to the Board of Trustees in 2018.
Polly is currently consulting with Parallel Lifestyle, the world's first inclusive mass participation event. She has been consulting and working in the charity and not profit sector for six years. At the British Heart Foundation, Polly was responsible for leading the growth of their current mass participation portfolio, more than trebling net income in two years, running a £20m appeal and developing new special events.

Prior to this Polly held senior marketing roles in the retail and leisure sector, including Wickes, Sainsburys and Whitbread.

She is a former Institute of Fundraising award winner and was recognised as a leader in Profit for Purpose at the 2019 UK Sponsorship Awards.

Polly is in the top 20 LGBT+ leaders list by Outstanding and The FT and on the Pride Power List in association with the Guardian. Polly sits on the UK Out at Tech Committee and she was a Board member of Pride in London for four years.

Outside work, Polly loves to travel, is an avid cook and baker and a cat (and dog!) lover.
Ranjit Sondhi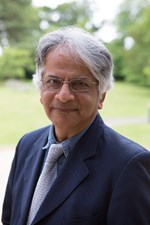 Ranjit Sondhi was appointed to the Board of Trustees in 2018.
Ranjit was born in India, and has lived, studied and worked in the UK since 1966. A graduate in Theoretical Physics, he founded the Asian Resource Centre in Handsworth, Birmingham in 1976. He was Senior Lecturer in Community and Youth Studies at University of Birmingham Westhill from 1985 to 2005.
He has served on a number of national regulatory and governing bodies. He was Vice Chairman of the Commission for Racial Equality. He was a board member of the Independent Broadcasting Authority and the Radio Authority. He was a Governor of the BBC and Trustee of the National Gallery. He was Chairman of the Heart of Birmingham Primary Care Trust. He has been a Civil Service Commissioner and Judicial Appointments Commissioner. He has just completed a term of office at the Criminal Cases Review Commission, and the Queen's Counsel Selection Panel. He is currently Vice Chairman of Sandwell and West Birmingham Clinical Commissioning Group and a Trustee of Citizens UK.
Jennelle Tilling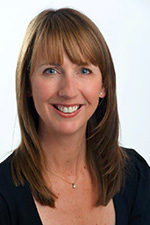 Jennelle Tilling was appointed to the Board of Trustees in 2020.
Jennelle has more than 25 years of consumer marketing, digital and innovation experience with leading global FMCG and food retail brands. She spent more than 17 years working for Yum! Restaurants International in a variety of senior marketing roles – culminating in her serving as the Global Chief Marketing Officer for KFC, responsible for the company's marketing, communications, innovation, digital presence and reputation in more than 125 countries.

Jennelle is the Founder and Chief Brand Strategist at London-based brand consultancy Marketing with Insight, and is a Fellow of The Marketing Society and a member of the Marketing Group of Great Britain. She is a member and Past President of Women in Advertising and Communications London and a mentor to The Marketing Academy. Jennelle holds Non-Executive Director roles at Shaftesbury PLC, Camelot (The National Lottery) and Butchies.

Jennelle splits her time between London and France where she loves to ski, climb, cycle and hike in the mountains.
Emma West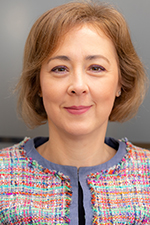 Emma West was appointed to the Board of Trustees in 2020.
Emma's background is in HR and has held senior roles in four FTSE 100 companies, including leading the Talent function globally for Cadbury, Unilever, Sainsbury's and Burberry. She has led HR initiatives during significant periods of change specialising in talent management, leadership and organisation development and employee engagement.

Emma is a qualified coach and runs a consulting business supporting organisations with their People and Talent strategies. She is a Non-Executive Director at DVLA and a Trustee for Magic Breakfast, a UK charity providing breakfast clubs in schools. She was previously Chair of Inspire! a London based charity working with young people.

Emma lives in London with her husband and enjoys travelling and sports (she is a passionate Welsh rugby supporter). She is a proud sponsor of a Guide Dog puppy.
Polly Williams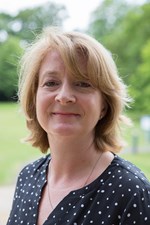 Polly Williams was appointed to the Board of Trustees in 2014.
She is currently a Non-Executive Director of TSB Group plc, Royal Bank of Canada Europe Limited, Jupiter Fund Management plc and XP Power plc.

Polly is Chairman of the Guide Dogs Audit & Risk Committee and is a company nominated Trustee of the Guide Dogs Pension Scheme.

Polly and her husband Neil live in the Surrey hills with their son and daughter and a chocolate Labrador. She enjoys walking, travelling with her family and spending time at their house in Portugal.
John Wrighthouse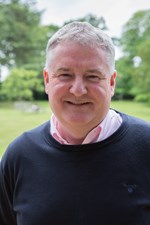 John Wrighthouse was appointed to the Board of Trustees in 2012.
He is Chief People and Communications Officer for Shell Energy, having had similar roles with HomeServe plc, American Greetings and Nationwide Building Society, and is a chartered Fellow of the Charted Institute of Personnel and Development.

John is a Trustee Director of the Guide Dogs for the Blind Pension Fund and Chairman of the Association's Remuneration Committee. He is a Director of the Nationwide Building Society Pension Fund.
John and his family live in Gloucestershire and spends what spare time he has taking the family to various skiing, rugby, hockey and swimming events!
Mike Wroe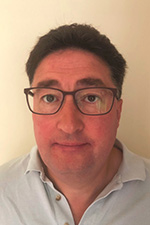 Mike Wroe was appointed to the Board of Trustees in 2020.
Mike has more than 20 years of senior finance leadership experience across a range of services and technology businesses. He was Group CFO of Just Eat plc for eight years until 2016. While at Just Eat he led the transformation from a 40-person, venture-backed start-up to an international business with more than 2,500 staff in 13 countries, which entered the FTSE 100 in 2017.

He is currently an active Angel Investor, mentor, board advisor and Non-Executive Director (including a period as a plc Audit Committee Chair) to a range of UK growth businesses. Mike is passionate about getting the best from individuals and teams in all walks of life while having fun doing it.

Mike, who has two grown-up children, lives with his wife near London, is a Lancastrian at heart but now spends as much time as work permits in Cornwall trying (unsuccessfully) to learn to surf and paddle board.