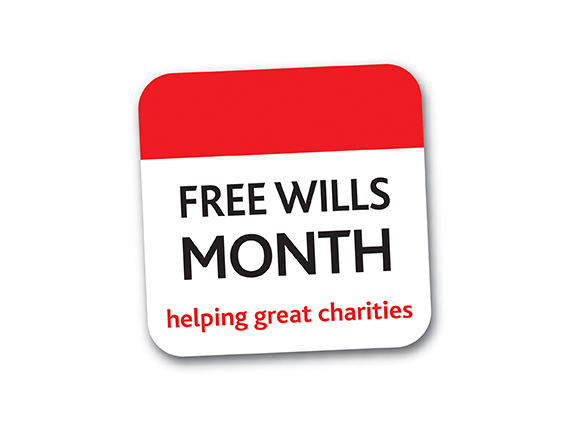 What is Free Wills Month?
Free Wills Month offers people aged 55 and over the opportunity to have a simple* Will written or updated free of charge during March and October.

The scheme uses local solicitors in selected areas around the UK, and although there's no obligation to leave a gift to Guide Dogs in your Will, we hope you might consider helping in this special way.
How do you take part?
From 1 March 2024, go to www.freewillsmonth.org.uk and enter your postcode to find details of participating solicitors nearest to you, or call 0333 022 0396.

Contact the most convenient solicitor for you and book an appointment; as long as you've contacted your chosen solicitor during the Free Wills Month period, the actual appointment itself can take place at a later date.
Appointments are allocated on a first come first served basis, so to guarantee a slot with your desired solicitor we'd recommend you contact them as soon as possible during the Free Wills Month period.
The cost of a simple* Will is covered during Free Wills Month. However, if you require a Will that is more complex your solicitor will advise you of any additional costs which may be applicable.
Whilst there's no obligation to include a gift to us, we offer this service to enable you to do so if you wish.
Can I write my Will for free at a different time?
If you wish to write your Will outside of the dedicated Free Wills Months, you can visit Bequeathed, who offer a free online Will writing service all year round. Alternatively, you can request a list of solicitors involved through our partnership with the Free Wills Network and write your Will face-to-face instead. Visit our free Will writing service page to find out more.
How can a gift in your Will change lives?
Nearly two out of three guide dogs are only made possible thanks to gifts left in Wills. This vital income helps to provide the guide dogs of the future and our wider services that support adults and children who are visually impaired living in the UK. No one with sight loss should feel isolated. A gift in your Will to Guide Dogs is the gift of freedom.


*Please be aware that the definition of a 'simple' Will is at the discretion of the drafting solicitor.
Harvey and Tessy
Gifts left in Wills help to create partnerships like Aberdeenshire's Harvey and his guide dog, Tessy. Harvey was diagnosed with Age Related Macular Degeneration in 2005 but coped well for many years with partial sight. When he was in his early 80s, Harvey made the decision to apply for a guide dog and was matched with Tessy in 2020.

From their first meeting, he knew Tessy was "special". He says: "I trusted her straight away and knew she was going to keep me safe." Until then, Harvey had used a long cane to get around but the difference walking with Tessy was liberating. "I was astonished, I no longer have any fears of bumping into anything".

Since being matched with Tessy, Harvey has been able to go out walking in the forests and to do errands in the village. While he currently has some mobility issues, it's still important for him they go out every day but, he says, "She seems very attuned to me, and slows down if I'm struggling."

Harvey can now live the life that he chooses thanks to Tessy and the kind people like you who helped support them by including a gift to Guide Dogs in their Will.