Get your game on and join in the fun with Game for Guide Dogs – whether you just love tuning in, or streaming yourself, you can take part and help us support more people living with sight loss!
Saturday 27 Aug to Sunday 4 Sep 2022 - tune in to Guide Dogs' Twitch channel and support our team of amazing pro streamers. But that's not all, there'll be puppy cams, interactive Q&A's and loads more to keep you entertained! Check out our streaming schedule below so you don't miss a minute of the action! And follow us on Twitch to be notified when we're LIVE.
Throughout September 2022 – Now it's your turn to level up and stream your go-to game to raise vital funds for people living with sight loss! Hit fundraising targets and unlock exclusive Guide Dogs rewards. Find out how you can stream for Guide Dogs.
What's coming up!
Tune in to our Twitch channel and support our streams! Chat to other gamers, watch our adorable puppers and donate to unlock £££ for Guide Dogs so we can train more amazing dogs to transform lives. Make sure to follow our team of streamers on Twitch to be notified when they're LIVE!
Check out our schedule in the image or expand the dropdown below.
Why we need you…
Every six minutes in the UK, one more person loses their sight.
There are 28,000 children (under 18) who are blind or partially sighted in the UK.
75% of assistance dog owners have been refused access to a restaurant, shop or taxi.
73% of people with sight loss of working age are unemployed.
Now it's your turn...
Inspired by our awesome team of pro streamers? Why not level up and take on your own stream for Guide Dogs this September to raise even more vital funds.
Play your go-to game, get friends, family and your community involved to reach your fundraising target.
Unlock exclusive Guide Dogs rewards when you reach fundraising milestones – see what you can get your hands on below!
Use Tiltify's amazing features to level up your fundraising – set polls, targets and milestones to make your stream even more fun. Why not dare yourself to do a blindfolded speedrun or beat a boss whilst singing all the words to a Britney song!
Discover more tips and info in our Game for Guide Dogs guide and use our handy resources below to make the most of your fundraising.
Don't forget to join our Discord server to stay in the know and chat with other gamers taking part in #GameforGuideDogs!
Exclusive fundraising rewards
Raise £16 which could buy a coat for one of our puppies in training and unlock an exclusive Guide Dogs animation to add to your stream.
Reach £120 which could support 15 working guide dog partnerships for a day to unlock the Game for Guide Dogs bundle - this includes a branded drinks bottle and baseball cap.
Hit £390 which could buy 15 newly qualified dogs their white harness - the iconic symbol of a working guide dog to unlock a Game for Guide Dogs PC gaming mat!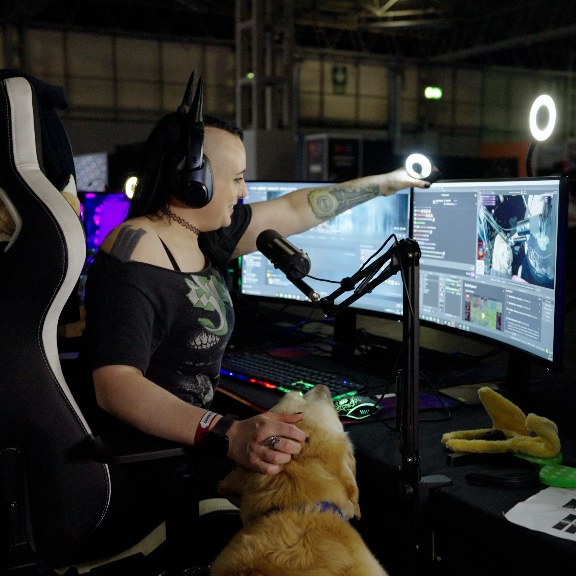 Meet Brutal Sue - a streamer for Guide Dogs
Meet streamer, @Brutal_Sue who streamed for Guide Dogs at Insomnia Gaming Festival in April 2022:
"My name is Brutal Sue and I've been streaming for around two years now. My brother got me into streaming just before the first lockdown, I was gaming continuously so he suggested that I start streaming it instead of just doing it for myself. Initially I wasn't sure but then decided why not give it a go, and here I am today, two years on at Insomnia!
I decided to stream for Guide Dogs because it's an amazing cause, obviously it helps a lot of people and gives them the opportunity to live a regular life, so I had to do it."
Use any of the resources below to make the most of your fundraising
Game for Guide Dogs wouldn't be possible without the support of the awesome people at...