Our buddy dogs bring a new friend into the lives of children with sight loss. By helping to develop their self-confidence, improve relationships and build a greater sense of trust, these dogs can have a hugely positive effect on your child's wellbeing – and your family, too.
A buddy dog is:
a friendly, well-behaved pet dog
here to help your child increase their physical activity, build confidence, create better relationships with others, and develop a sense of fun and trust
a great way to show your child the responsibility of caring for a dog
owned by Guide Dogs
looked after and paid for by your family, including vets' bills and insurance
A buddy dog is not:
a guide dog, so they should never be used as a mobility aid or for sighted assistance
legally allowed anywhere a pet wouldn't be, such as in schools. Some places may let them in, but it's their choice – they don't have to
to be walked by your child on their own – an adult must always be holding on to the lead
allowed in social situations with your child on their own, without a responsible adult
owned by your family
Buddy dogs are dogs that have been given a career change because life as a guide dog wasn't quite right for them. This means they may have health or behavioural difficulties such as a skin condition, anxiety or problems with their joints. If they do, we'll give you the right support to manage it but remember that no dog is 'perfect'.

What's life like with a buddy dog?

Buddy dogs can be a huge benefit to your child and family, but they also need plenty of care and commitment throughout their lives – typically around 10-14 years. It's also worth thinking about whether you'll have the energy to look after a big dog.

How long does it take to get a buddy dog?

The time it takes to be matched and paired up with a buddy dog depends on the circumstances of each child and their family – and whether we have the right dog available, of course.

Can my buddy dog help my child with their mobility?

A buddy dog may help your child feel more enthusiastic and confident to get out and about, but they shouldn't be used as a mobility aid or guide.

Will my buddy dog be able to go into shops with my child?

No – buddy dogs don't have the same legal access rights as guide dogs, so they may not be allowed in.

Can we have a buddy dog if my child isn't visually impaired?

No – our buddy dogs are only for children with sight loss. If your child has additional needs, such as autism, alongside their visual impairment, this is also fine.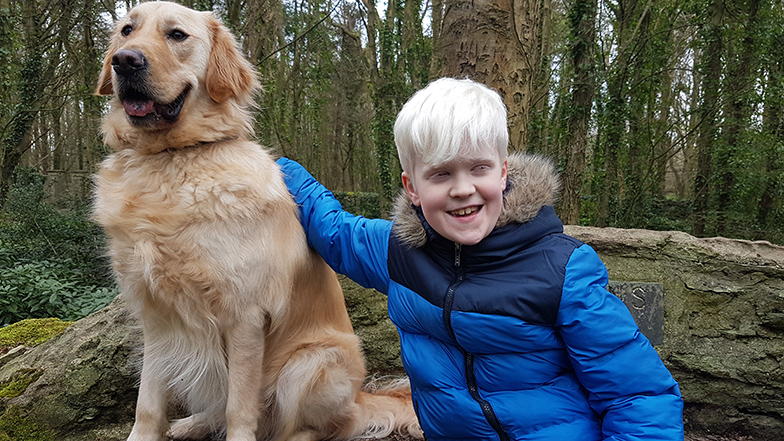 Buddy dogs gave Ellis the confidence to talk about his eye condition
Ellis has always loved dogs so when his first buddy dog, Tweedie, came along they instantly connected. Now Ellis has buddy dog Ralph, who gives him someone to talk to and helps him feel better about his vision impairment.
Ready for a buddy dog?
To start your application, please contact the team on