The journey to and from diagnosis can be difficult for you and your family but we're here to support you through it, every step of the way.
We've put together this guide to help you understand the process of diagnosis, the emotions you might be feeling and to direct you to important sources of information.
Stage one: the early days
At this point, you'll have been told that your child has a vision impairment and you may know the name of the eye condition.
It's normal to experience many different emotions, which may include bewilderment, a sense of loss, profound sadness and confusion. You may feel angry and start to want answers. All these emotions are valid but it's important to remember that with the right support, your child can and will have a happy life.
You may not know what services you can access to support your child and be looking for information, advice and guidance. Emotional support and someone with experience to talk to about your worries can help you, your child and your family with the diagnosis and with the many different emotions you're feeling. For this emotional support, call our specialist team.
It's also perfectly understandable to want to know more about your child's eye condition; you may be tempted to use the internet to read more information before you get a firm diagnosis from the doctor. But take care, as although the internet can be a good source of information, some of it may be inaccurate and not relevant to you.
Questions you may have before your child receives a diagnosis
Stage two: following diagnosis
Your child is unique and so is their eye condition. Even when children have the same eye condition, the severity will differ, as will the way each child experiences the condition.
After your child is diagnosed, you might our need help with:
Coming to terms with the emotional impact of your child's sight loss.
Information about the eye condition.
Information about vision impairment in general.
Knowing which professionals can help you now and in the future.
Practical help.
Understanding common terms that you'll hear the professionals use.
Putting the right support in place to give your child the best possible future.
Questions you may have following your child's diagnosis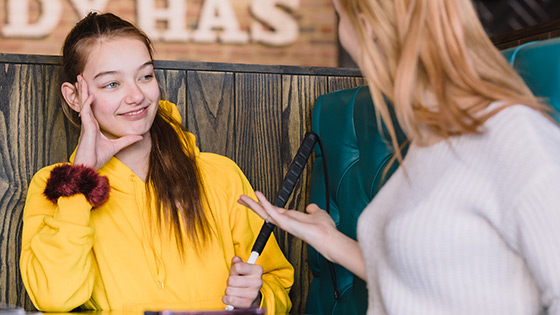 Your child can live the life they choose
Mia wanted the same as her friends - to go out and enjoy life independently. Find out how we supported her and her family so that she could do just that.
Stage three: what next?
After they diagnose your child, the ophthalmologist will send a letter to your GP explaining their findings and any treatment, tests or procedures.
The ophthalmologist also refers your child to the local authority Education/Sensory Support Team (the name may differ, depending on the local authority).
The Education/Sensory Support Team is there to support you and your child, now and for the next few years. Through this process you will meet and talk to a lot of specialists, all with the same aim; to help your child live their best life.
The specialists may include:
Early years specialists - including specialist teachers, speech and language therapists, health visitors and educational psychologists.
Children's habilitation specialists - they support your child with mobility, orientation and independent living skills.
Qualified Teachers of children with a Vision Impairment (QTVI) - they support your child throughout their school years and visit your home or your child's school in the first few years of diagnosis.
You can find out more about each of those roles in our guide to professionals working with your child.
You will be sent a copy of the ophthalmologist's referral letter, but if you haven't, ask the ophthalmologist or their receptionist to send you it for your records.
Once the Education/Sensory Support Team has received the referral, they'll make an appointment to visit you and your child at home. This is an important step in getting practical help.
Certification of Vision Impairment
Your ophthalmologist may talk to you about having your child certified as sight impaired (partially sighted) or severely sight impaired (blind).
This is often a time that parents find particularly difficult, as it's not always clear exactly what your child can see and the level of vision they may have.
Your ophthalmologist may not be able to give you precise answers to questions such as 'exactly how much can my child see?'. It's only time, regular hospital visits and your observations of your child that will make the whole picture clearer. For this reason, they may decide not to certify your child until they're older, when the responses to the tests may be more accurate. Even if your child has a diagnosed vision impairment, they may not meet the criteria for certification.
It's your choice whether to have your child certified as having a vision impairment but it can help with accessing further support from sensory services - amongst other benefits. Find out more about the certification process in our guide.
Questions you may have about next steps
Do you have concerns and need support?
Please get in touch if you'd like some advice, or to chat about how we can help you. We'll support you for as long as you need it and whenever you have any new concerns or issues.