Help us be there for the next 90 years
Join the Guide Dogs 90 Appeal this October and help make a real change to the lives of people living with sight loss.
The UK's first guide dog partnership qualified in October 1931. Since then your support has helped us transform the lives of thousands of blind and partially sighted people, through a range of services. And we couldn't have done it without our incredible fundraisers.
The impact of losing your sight is the same now as it was 90 years ago. It's terrifying and it's isolating. People with sight loss are likely to encounter unemployment, depression, loneliness and financial insecurity. But by supporting the Guide Dogs 90 Appeal you can help people with sight loss live the life they choose.
How you can get involved
This October, join thousands of people making the Guide Dogs 90 Appeal their own! Walk 90 km, play 90 minutes of charity football, wash 90 cars, or help young people learn about our 90-year history. Guide Dogs celebrates its birthday on 6 October, but you can hold your fundraiser any time that suits you. However you want to raise money, your support will mean we can help people with sight loss now, and for the next 90 years.
Looking for some inspiration? Explore our top fundraising ideas to help get you started. Whether you're fundraising on your own or as a group, our Guide Dogs 90 fundraising pack has something for everyone.
Our top fundraising ideas
Bake 90
If you learned to bake or perfected your skills during lockdown, why not use your talent to turn cakes into cash with some guide dog themed baking? Whether selling in person or online, use our printable suggested donation labels for your doggy themed treats. Host a bake sale, offer doorstep delivery, or go all out with your own bake-off challenge.
Don't forget to snap and upload a photo of your guide dog bakes using the #GuideDogs90 hashtag to be in with a chance of being crowned our own star baker!
Celebrate 90
It's about time we all got together again for a party, and what better reason than to celebrate Guide Dogs! Get your 90s rave outfits on and the glow sticks out, or travel back 90 years for a 1930s themed bash. Whether inviting 9 people, or 90, we've got lots of tips to make your throwback theme come to life for your guests.
If you're more glamour than grunge, why not host a glittering dinner party with thirties fancy dress. You could channel your inner Poirot and hold a murder mystery, or maybe a cocktail hour is more your thing? Or keep it classy with an afternoon tea party with tunes from the thirties.
Walk 90
Team up with your dog or family members and take on our walking challenge together! Whether you're a regular rambler or more of an ambler, raise funds at your own pace by walking 90km in October. This is a great way to get the whole family doing something active together for a great cause.
Join our 90km for Guide Dogs Facebook group which includes details on how to set up your Facebook Fundraiser and claim a free bandana, so everyone knows you and your dog are helping raise money for the Guide Dogs 90 Appeal.
More ideas for fundraising...
From taking on a personal challenge to getting the whole class involved, there's no limit on the way you can fundraise for the Guide Dogs 90 Appeal.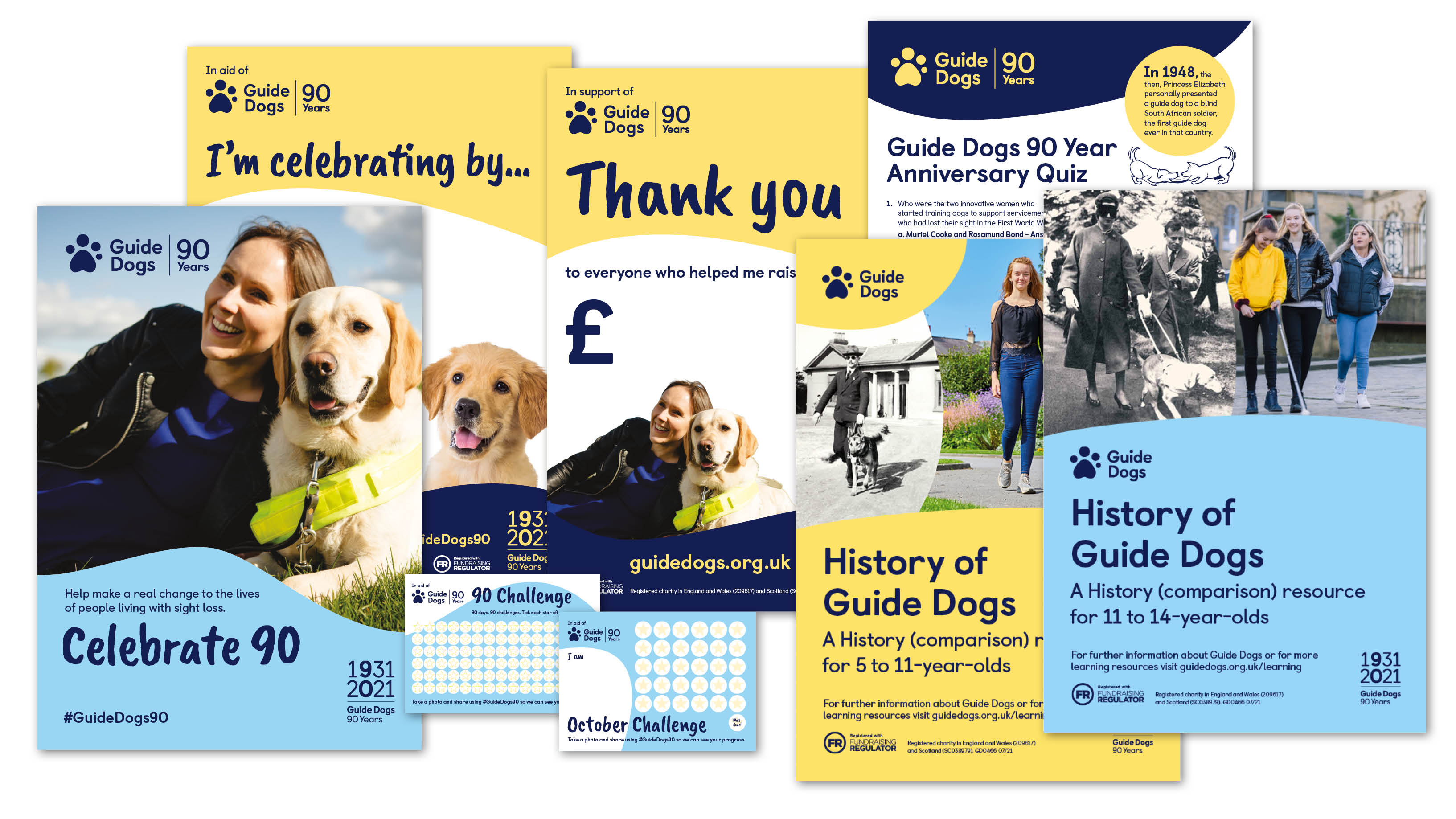 Sign up to do something incredible
When you sign up to support the Guide Dogs 90 Appeal as an individual or a group, you'll receive…
Guide Dogs 90 fundraising pack in the post
Lots of additional fundraising tools available to download
Fundraising advice and support from our expert team
Chance to claim a limited edition Guide Dogs 90 pin badge or win a group visit from Flash the pup. Terms and conditions apply.
How your fundraising will help
By raising £90 you could pay for an afternoon of a guide dog's training. Your donation can help us to train the next generation of guide dogs. So we can be here for people with sight loss, now and in the future.
Terry, from Baildon in Yorkshire, has been partnered with his guide dog Spencer for the last year.

"He's been the last missing piece in getting my life back and I feel like myself again. My partner says it's like having the old Terry back."
Got a question?
If you have any questions or need help or advice about taking part in the Guide Dogs 90 Appeal, please don't hesitate to get in touch.
guidedogsappeal@guidedogs.org.uk