Get together this October
Fundraise for the Guide Dogs Appeal 2023 and help tackle the loneliness and isolation caused by sight loss.
Sight loss can affect anyone, at any age or stage of life. Often, it makes people feel alone and isolated. From friends and loved ones, from careers and communities, from the world they knew and the lives they'd planned.
We need your support to change lives
For this year's Guide Dogs Appeal in October, we're asking all our supporters to get together – and raise money to help tackle the loneliness and isolation caused by sight loss.
Cross the generational divide and assemble your friends and family, to fundraise for Guide Dogs. Or simply come together with your colleagues or community to raise money and show people with sight loss they're not alone.
1 in 5 people will live with significant sight loss in their lifetime.
50% of all people with a vision impairment feel cut off from the people and places around them.
80% of parents believe their child's sight loss has a negative effect on their ability to make friends.
Ideas for your Guide Dogs Appeal fundraiser
However you choose to fundraise, we'll support you all the way!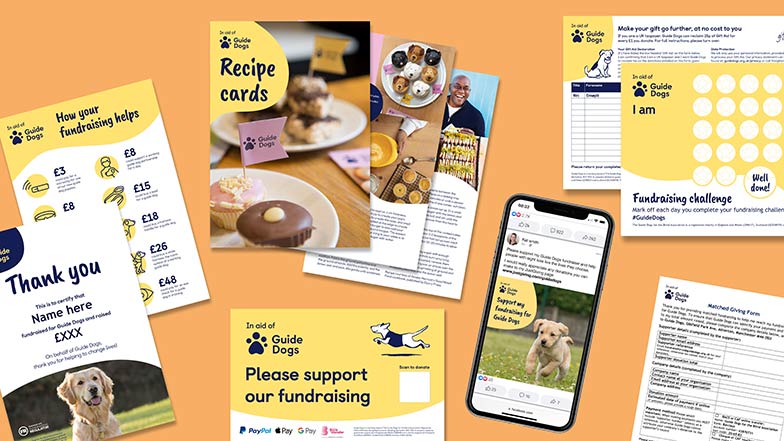 Free fundraising pack
Sign up today to request a fundraising pack and access to lots of downloadable tools. When you pay in the funds you raise, we'll also send you an exclusive invitation to visit Guide Dogs!
How your fundraising could help
Big or small, whatever fundraising goal you choose will make a difference. With the money you raise, we can help a child born with a vision impairment to take their first steps into the world or support a grandparent as they relearn to live a full life with sight loss.
"Why not raise money like me for Guide Dogs?" – Rex
Seven-year-old Rex was inspired to fundraise because of his Mum Lorna's sight loss journey. He initially had the idea to raise £100 through a muddy obstacle course, but soon caught the fundraising bug.
Got a question?
If you have any questions or need help or advice about fundraising for Guide Dogs, please don't hesitate to get in touch.
guidedogsappeal@guidedogs.org.u