Schools sculpture design competition
Inspire your pupils to get creative!
Get involved in the Paws on the Wharf art trail by joining our Guide Dogs Sculpture Design Competition for schools!

The competition includes a free learning resource pack that supports the Ofsted Framework. It's a great way to inspire children through art and creativity. What's more, the winning design will be used on one of the trail sculptures for all to see!
Want to be part of the trail?
We're inviting local schools in the Tower Hamlets borough to join in the fun by getting involved in our Guide Dog Sculpture Design Competition. The winning sculpture design will be brought to life by one of our talented artists to form part of the Paws on the Wharf trail. It will be publicly exhibited in Canary Wharf with the other sculptures for eight weeks in spring 2024!

The competition includes a free learning resource pack that supports the Ofsted Framework, numerous school improvement objectives and soft skills development. It's the perfect way to inspire young people through creativity and encourage discussions around sight loss, accessibility and inclusion. We'll provide everything you'll need, such as class guides, lesson plans and templates.
Help make a pawsitive impact!
Inspire your pupils to help us celebrate our life-changing guide dogs and raise awareness for the challenges of sight loss.
At Guide Dogs, our goal is to help people with sight loss live the life they choose and empower them with the means to get out into the community more easily and with confidence.
We know that people experience life in different ways, using multiple senses. And we believe an art trail should be experienced in the same way too. That's why our art trail and the Sculpture Design Competition for schools will include extra dimensions to make it more inclusive. Not just a visual trail – your pupils will help create a multi-sensory event that everyone can enjoy.
Download the schools information pack
For more information about the trail, the learning programme and sculpture design competition.
Registration date for the Sculpture Design Competition has been extended to Friday 6 October 2023. Email us at pawsonthewharf@guidedogs.org.uk
How other schools have benefitted
There are so many reasons to get involved. Schools and pupils across the UK have benefitted from joining an art trail in their area:
Bee in the City, Manchester
"This was a truly unforgettable project for our students who felt extremely proud to take part and show off our Bees to their families and the local community. It brought the school closer together, all working on one epic project, and gave us a great idea for project-based work with cross-curricular links."
Laura Murphy, Creative Arts Coordinator, St Marys RC Primary Swinton
Get in touch
If you're a school in the Tower Hamlets borough and would like to receive an information pack - email us today!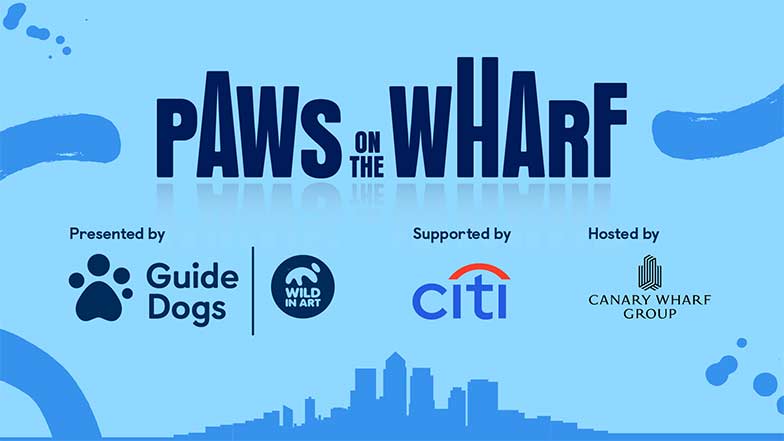 Paws on the Wharf
A Guide Dogs and Wild in Art event supported by Citi and hosted by Canary Wharf Group.
Follow the trail on Instagram @pawsonthewharf_guidedogs