Unleashing creativity throughout Canary Wharf!
Throughout Canary Wharf during spring 2024, our guide dog sculptures will showcase the work of incredible and uniquely talented artists. Spanning different genres, styles and mediums, the designs will be bright, bold and fun.

And every dog has a 'tail' to tell. Our artists are using their creativity to entertain, celebrate and educate. Find out the story behind each design – we'll have audio descriptions and guided sensory tours to ensure an accessible and inclusive trail that everyone can enjoy.

Come and see if you can find them all!
Artwork for everyone to enjoy
At Guide Dogs, our goal is to help people with sight loss live the life they choose and empower them with the means to get out into the community more easily and with confidence.
We know that people experience life in different ways, using multiple senses. And we believe an art trail should be experienced in the same way too. That's why our art trail will include extra dimensions to make it more inclusive. Not just a visual trail - we want to create a multi-sensorial event that everyone can enjoy.
Coming soon - we'll provide a sneak peek of some of our artists who will bring the trail to life!
Our guide dog sculptures
Our sculpture design was inspired by our life-changing guide dogs.
Larger-than-life, our sculptures will stand 1m high and will be placed on plinths, so you can get up close to each of them.
Artists will bring their design concept to life with vibrant, unique and exciting designs that you won't want to miss.
How artists came together to support a previous trail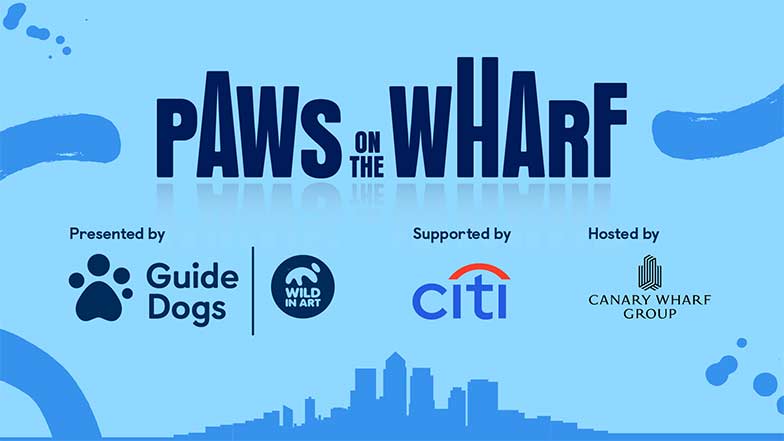 Paws on the Wharf
A Guide Dogs and Wild in Art event supported by Citi and hosted by Canary Wharf Group.
Follow the trail on Instagram @pawsonthewharf_guidedogs