Sniff out the trail at Canary Wharf
Do you have a nose for adventure? Come and join the Guide Dogs sculpture trail, weaving its way through London's Canary Wharf for eight weeks, from 25 March to 17 May 2024.

A free, fun and family-friendly celebration of our iconic guide dogs, art, creativity and accessibility. We'll be showcasing our larger-than-life guide dog sculptures, each individually designed and decorated by a talented artist. Every dog has a 'tail' to tell. Can you find them all?
Raising pounds for clever hounds
Every day in the UK, 250 more people join the 2 million already living with sight loss and this number is set to double by 2050.
Guide Dogs is here to help people with sight loss live the life they choose. But we can only do this with your support.
Our incredible dogs help people get out with confidence, going wherever school, work or play takes them - and knowing that sight loss won't hold them back. The advice and skills we provide give people the freedom to live life on their own terms, in their own way, and achieve their hopes and ambitions.
Paws on the Wharf aims to raise awareness around the challenges of living with sight loss and the critical work we do to support the adults, young people and children affected by vision impairment.
We also aim to raise vital funds that will enable us to guide individuals and families through the emotional and practical challenges of sight loss, giving them the knowledge, tools and skills they need to live their life to the full.
Discover Canary Wharf
Canary Wharf is home to London's largest collection of outdoor public art, with over 100 stand-alone sculptures and integrated architectural works. So, it's the ideal place to unleash our guide dog sculptures!
An iconic destination and the heart of the London business district, Canary Wharf is defined by culture, with over 300 shops, cafes, bars and restaurants, and boasting a sought-after new residential neighbourhood. There's much to celebrate in this thriving community, for visitors, workers and residents.
Join our trail in spring 2024 to discover Canary Wharf and our incredible guide dog sculptures!
Coming soon! We'll have a trail map, accessible navigation information, plus the option for people with sight loss to book guided tours to help discover the trail.
Fancy lending us a paw?
If you're a business - why not sponsor one of these incredible sculptures? It's a great opportunity to engage your staff and customers and raise the profile of your brand.
If you're a school in the Tower Hamlets borough - you can inspire your pupils through creativity by entering our Sculpture Design Competition for schools, which includes a learning resource pack. The winning design will feature in the main trail!
Join us in this celebration of our guide dogs, art, creativity and fun. Help us bring our trail to life and raise vital funds to support people with sight loss and drive conversations around the importance of accessibility and inclusion.
Calling all Tower Hamlets schools - inspire your pupils with the Sculpture Design Competition and learning pack!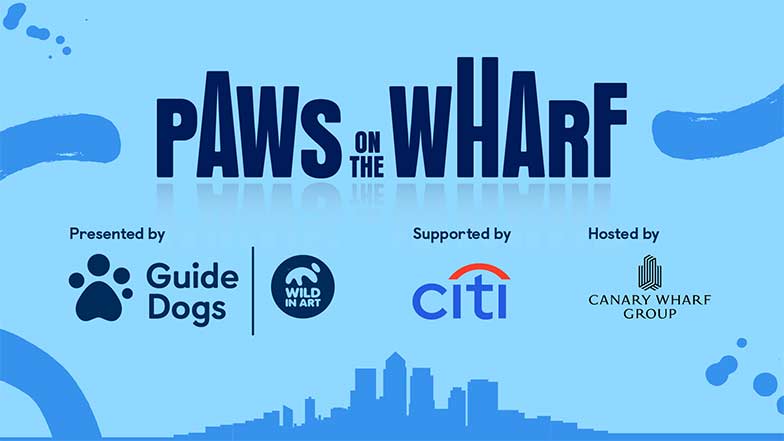 Paws on the Wharf
A Guide Dogs and Wild in Art event supported by Citi and hosted by Canary Wharf Group.
Follow the trail on Instagram @pawsonthewharf_guidedogs