A Dog Called Laura with Martin Clunes
Join dog loving actor Martin Clunes as he meets the dedicated volunteers and staff responsible for raising and training our life-changing dogs.
Martin Clunes shares his journey to rehome retired guide dog Laura from blind fitness guru Jaina Mistry. Whilst Jaina waits to be matched with her new guide dog, Martin meets the dedicated volunteers and staff responsible for raising and training these life-changing dogs.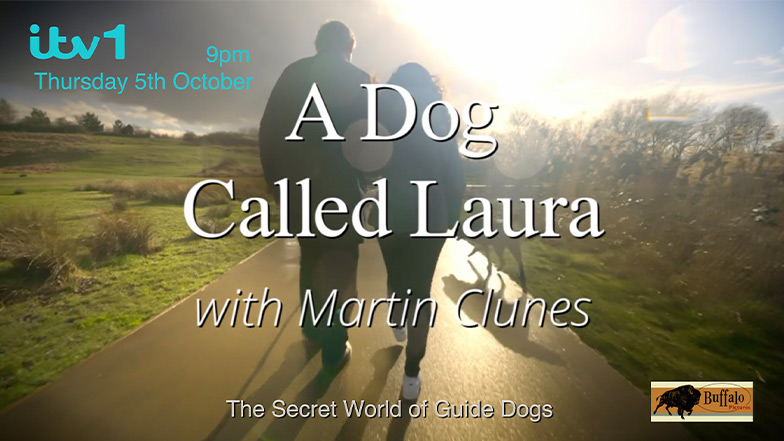 Catch up on the documentary
A Dog Called Laura with Martin Clunes, The Secret World of Guide Dogs aired on ITV1 on 5 October 2023.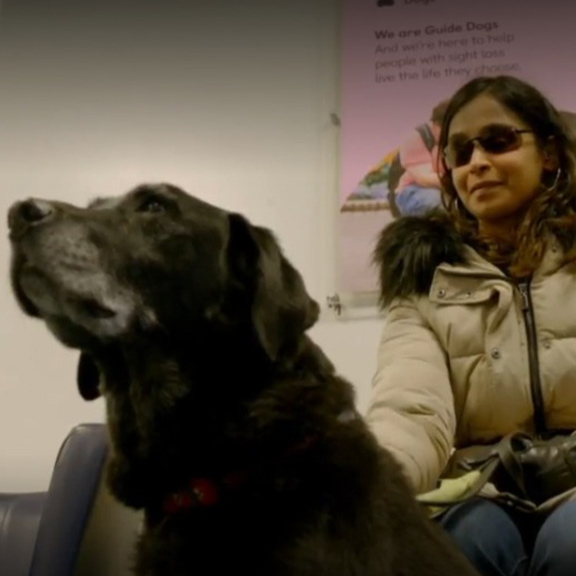 Meet Jaina and her guide dog Laura
Aged 17, Jaina Mistry, from Leicester, nearly died after an allergic reaction to penicillin. She was diagnosed with an extreme form of Stevens-Johnson syndrome which affects around one in every three million people and within 12 months had lost her eyesight. In 2012, she qualified with her first guide dog Laura, who has since retired and been rehomed by Martin Clunes. Her latest guide dog is Kath, a black golden retriever cross Labrador.
Laura finds a new home for her retirement with Martin
There comes a time when a guide dog is ready to retire. A retired guide dog can stay with their owner or, as in Jaina and Martin's case, a new home can be nominated. Otherwise, our rehoming service finds our dogs new loving homes.
Meet some of the other people and dogs on the show
Tim, Breeding Dog Supervisor
Tim, who has the rather enviable-sounding role of 'puppy midwife', has worked at Guide Dogs for 13 years and is currently in his dream role.
Tim is in charge of making sure guide dog mums have everything they need to safely give birth to healthy little pups. He supports guide dog mums and their volunteer Breeding Dog Holders through pregnancy and labour, overseeing the birth of around 25 litters a year.
Becky,
Breeding Programme Data Manager
Becky has worked for Guide Dogs since 2016, specialising in research relating to dog behaviour. She has always been an animal lover and volunteered for Guide Dogs during her degree. As seen in the programme, Becky runs a project on puppy problem solving. The project called Puppy Cognition assesses the puppies' reactions to standardised games, puzzles, objects, and human interactions.
Becky says the best thing about her job is ensuring our dogs are happy and healthy as guide dogs.
Harriet, volunteer Training Dog Fosterer
Harriet used to be a maths teacher in a secondary school until she had to stop due to ill health. She started volunteering as a Puppy Raiser and Training Dog Fosterer for Guide Dogs and says it has been healing.
In the past two years, she has fostered eight dogs, including Hugo, a golden retriever cross German shepherd, from the record-breaking litter of 16 guide dog pups born in 2021. She looks after the dogs in training during evenings and weekends.
Caroline, volunteer Breeding Dog Holder
Caroline is a volunteer Breeding Dog Holder for Guide Dogs, and cares for guide dog mum Georgie, who is a golden retriever. Georgie had her first litter of puppies on 11 May, six boys and three girls, and Caroline, along with her 19-year-old son Harry, were on hand to support with the birth.
Caroline decided to become a volunteer for Guide Dogs after seeing the positive impact her pet dog had on her mum, who is deaf.
The Vanstone family, volunteer Puppy Raisers
With four young daughters, including three-year-old twins, Carrie and Cliff, who live in the Vale of Glamorgan, lead busy lives. They welcomed Hobson, a yellow Labrador cross golden retriever puppy, into their home last September - he's now nine-months-old.
The couple took on the role of Puppy Raisers to thank Guide Dogs for giving support and advice regarding one of their three-year-old twins, who is registered blind and currently on the list for a buddy dog.
Craig and guide dog Comet
Craig was 21 when he was blinded in action by two rocket propelled grenades in Iraq. As part of his recovery, Craig threw himself into sport and he started playing Blind Football for England. The travelling backwards and forwards prompted Craig to apply for a guide dog.
His first guide dog Hugo left such a huge paw print on his heart, he even named his first son after him. In 2019, Craig qualified with his second guide dog, Comet, who Martin meets in the show.
David and guide dog Scooby
David was in his mid-40s, working in Spain as a graphic designer when he first noticed that his vision was gradually deteriorating. David became withdrawn from his friends and was quite depressed – all he could focus on was what he was losing.
When David came to terms with his sight loss, he applied for a guide dog and was matched with Scooby. Scooby gave David back his independence and put a smile on his face.
Dr Helen,
Assistant Director of Breeding, Puppy Raising & Science
Helen helps people with sight loss to live the life they choose by leading world class science-based breeding and puppy raising programmes. She explains to Martin precisely what the magic ingredients are when it comes to breeding, training, and then matching, these remarkable dogs to their owners.
Nothing happens by accident. Nothing is overlooked. Personality, training, health and complex genetic profiling are all vital to ensure healthy, happy dogs and the best chance of a successful working partnership.