Volunteer with our dogs and help support them on their journey to becoming a guide dog. You could provide a loving home for a guide dog puppy, volunteer to walk a working guide dog or foster a guide dog in training. In all these roles, you'll be offering invaluable support to our organisation and getting hands-on with our canine community.
Find out more about specific volunteer roles with our dogs in the descriptions below, or you can search for all of our current dog volunteer roles near you by using our postcode search. And don't forget to take a look at our frequently asked questions!
Explore our dog volunteer roles
Find a volunteer role with dogs near you today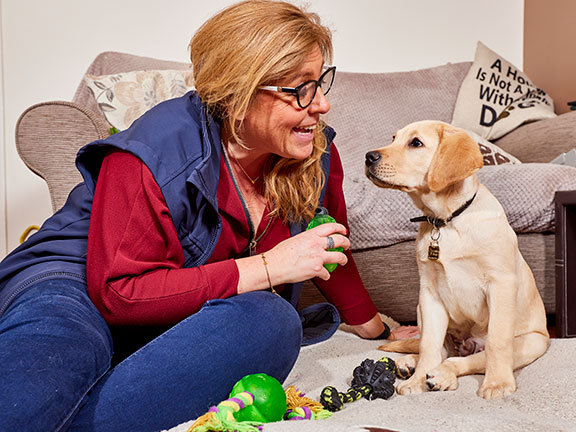 Find out more about what is like to volunteer with our dogs: hear from Lisa
Lisa is a Puppy Raiser for Guide Dogs. She is on her second puppy, a yellow Labrador called Archie. She said:
'Now I'm doing it, it's good and it's a big part of my life now. I didn't realise we needed this, but it's been the missing piece of a jigsaw puzzle. It's made such a different to the whole house, the whole home. It's hard work, toilet training and the sleepless nights. But I love the training aspect of it, and people's reactions when they say "oh wow that dog is so well behaved". It's given me an eye opener. I'm learning new things and it's an experience for me. It's the best thing; it makes you feel whole'.
Frequently asked questions about volunteering roles with our dogs
Get in touch
You can call our volunteering office 9am - 5pm Monday to Friday.