Luna's next steps!
Guide dog puppy Luna has now left This Morning to concentrate on her guide dog training! She's come on leaps and bounds in her puppy training and is now building on everything she's learnt.
Michelle, her puppy raiser (formerly called a puppy walker) and qualified guide dog trainer, will continue to teach Luna all the skills that she needs to become a guide dog. She'll teach Luna how to deal with traffic, to stop at kerbs and to negotiate obstacles as well as many other important skills that will allow Luna to become a life changing guide dog for her future guide dog owner.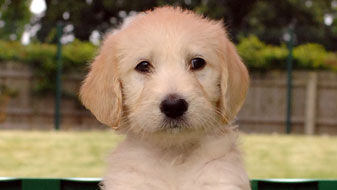 Luna Factfile
Name: Luna
D.O.B: 23 June 2016
Breed: Labrador Poodle Cross (Labradoodle)
Parents: Ushka (Black Labrador), Ulster (Poodle)
Famous Siblings: Clover!
Personality: Confident, feisty, hilarious
Dream job: Guide dog of course!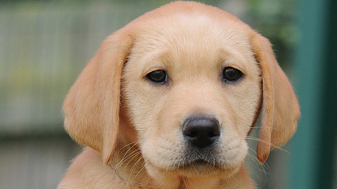 Clover Factfile
Name: Clover
D.O.B: 12 June 2015
Breed: Labrador
Parents: Ushka (Black Labrador), Gus (Golden Labrador)
Siblings who think they're famous: Luna!
Personality: Cheeky, sassy, clever
Current status: Qualified Guide Dog
Clover is the original This Morning superstar in training! From a tiny 10 week old puppy to guide dog partnership, Clover's fans have followed her Guide Dogs journey, on This Morning and social media, up until she was successfully matched with her Guide Dog Owner Sharon in 2017.
Sharon said: "Clover settled into our family really quickly and she's such a joy to be around. She's so sharp and focused when we're out and we already feel like a team. She's going to make such a huge difference to my life."

Clover's journey from puppy to guide dog is all funded by the charity Guide Dogs. The cost of training and looking after a guide dog partnership is £55,000 from birth to retirement. This is all possible because of generous donations from Guide Dogs supporters.