Viewing or reading nearby objects
There are several reasons why you might want to learn about viewing or reading nearby objects. For example, you may not yet have met a professional from your local Sensory Team, not had a Low Vision Assessment, you cannot access printed documents and/or you may, usually have someone that comes to your home to support you to read and help you with home management. Or you may just not be aware of some of the solutions to viewing or reading near targets.
We have put together the following helpful hints and tips to help you to view and read nearby objects.
Magnification
One solution for viewing things close to you is to use a magnifying glass/magnifier. These include dome and bar magnifiers, stand magnifiers, hand-held magnifiers and pocket magnifiers or spectacle mounted magnifiers. The dome and bar magnifiers (usually in lower magnification levels) and stand magnifiers need to rest on the page or item you are trying to view, this could be a draw back during this time as you may not want to touch or handle everything you want to view. Hand-held and pocket magnifiers are usually portable and don't need to make contact. The stronger a magnifier is (higher the magnification level), the closer you may need to bring it and the item to you.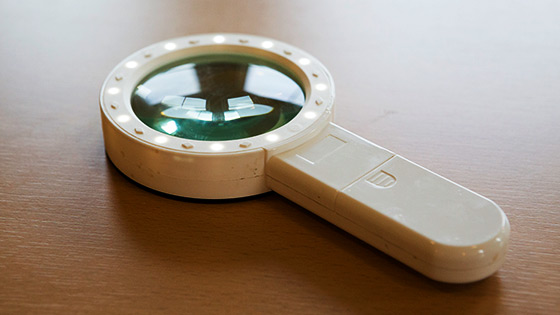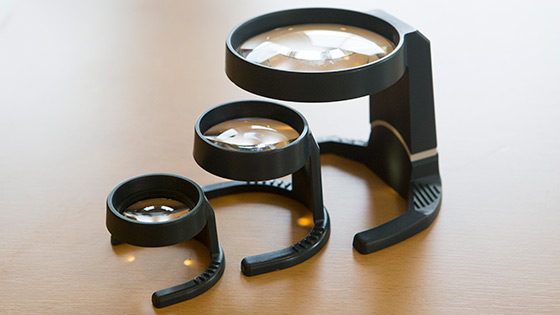 We would normally recommend that you have an assessment from a low vision specialist, where you can talk through the options and aids may be issued. While these services have been put on hold, you can find useful information on low vision aids in the expert advice section of the Optima Low Vision Services website. As well as the Optima shop, you can purchase magnifiers from a range of places including RNIB and Associated Optical

There are also several videos by the RNIB that explain about different types of magnifiers and their usage:
Magnifier range - Reg tells us about a range of magnifiers available for blind and partially sighted people - YouTube

Illuminated magnifier - Reg shows us how he reads with a magnifier with a light - YouTube

Lightweight portable magnifier - Reg tells us how he uses his portable magnifier - YouTube
Spectacle mounted magnifiers
One of the drawbacks when using a magnifier is that you usually need to pick the item up and hold the magnifier. Also, as magnifiers increase in strength they give a smaller field of view (the amount you can see through the magnifier). An alternative could be to use a spectacle mounted magnifier that offers the benefits of being hands free and provides an increased field of view, meaning that you are able to see more through one compared to a hand or stand magnifier. However, you will need to bring the item close to your face.
Reading on a flat surface
You may find it more effective and/or comfortable to put the item you are going to read on a flat surface such as a clipboard or reading stand. This is not always possible as the item may not be flat and/or you may not be able to carry this with you or in a setting where you can use them, but it can be an effective strategy for reading at home.
Monocular or Binoculars
You could use a close focusing monocular or binoculars. This would allow you to view items close and in the distance, would reduce the number of aids you need to carry and may allow you to view things without touching them. For further details please visit our please visit our how to view things in the distance guidance.
Video magnifiers
Video (or electronic) magnifiers are useful devices that can allow you to magnify, change the colour and contrast of items and capture an image of the item. These could allow you to not touch items until you knew it was the thing you needed.
Smart phone or tablet as a low vision aid
You could use a smart phone or tablet as a low vision aid. You could simply take a photo of the item, then make the image larger by putting your finger and thumb on screen together and spreading them apart (kind of like pinching in reverse). You could also use the built-in accessibility features on your smart phone or tablet.

Guidance on using the accessibility features on apple devices (IOS) please visit the technology section of the guide dogs website.

These strategies could allow you to not have to touch items until you knew it was the thing you needed.
Technology aids
Another alternative could be using an app such as Seeing AI (IOS only) or Be My Eyes (IOS and Android).

Seeing AI is a free app that can describe the world around you. The app utilises the power of AI (artificial intelligence) to describe nearby text, objects and people. The app can also help identify products using a bar code scanner.

Another alternative could be to video call someone you know using apps such as FaceTime, WhatsApp, Facebook Messenger. If there isn't someone you can call or if you don't want to rely on people you know, you could use Be My Eyes.

Be My Eyes is a free smartphone app which connects people with sight loss to sighted volunteers. Once installed on your Android or iPhone smartphone, it uses the internal camera on your phone to capture a live view of what's around you and shares that with a volunteer. This allows a volunteer to 'be your eyes' and support you with a multitude of tasks and scenarios that may arise day to day.

For support with any of technology aid items you can contact our Technology Services team.