As one of the major manufacturers of phones, computers and other technology, you may well have an Apple product in your home. While it may seem daunting at first, these devices actually offer a range of accessibility tools and features which make it easy to customise your experience.
Apple's commitment to accessibility spans across various versions of iOS - from iOS 12 to the latest iOS 17 and includes features such as VoiceOver, Text Size, Siri, Zoom, and more. Setting up accessibility features will be different depending on the version of iOS you are using.
The latest Apple accessibility updates (as of Sept 2023)
Accessibility features are continually evolving. By staying up-to-date with the latest accessibility updates, you can make the most of your Apple device and take advantage of new ways to enhance your digital experience.
In May 2023, Apple unveiled a range of software features aimed at improving accessibility with a focus on cognition, vision, hearing, and mobility. Here's an overview of the latest accessibility features introduced by Apple in iOS 17, iPadOS 17, watchOS 10, and macOS Sonoma.
Assistive Access enables you to personalise apps with high-contrast buttons, and large text labels. It also offers a visual alternative to text where messages can be sent with an emoji-only keyboard or as a video selfie should you prefer to use that.
Highlights also include a "Point and Speak" feature that reads text on household objects aloud. This feature is great for identifying text on items in your surroundings, such as buttons on appliances like microwaves.
Other features include enhanced hearing device support, Voice Control improvements, customisation and improvements to Apple Fitness+, featuring inclusive workout modifications. The App Store also spotlights leaders from the disability community and augmentative and alternative communication (AAC) apps.
How to set up your new iPhone or iPad
If you're new to using an Apple device, we've got you covered. Start your journey with our helpful video tutorials on setting up your iPhone or iPad. These videos provide a beginner-friendly introduction to getting your device up and running and can be found here: Tech for All learning programme.
Apple accessibility button
Apple's accessibility button allows you to access a selection of accessibility shortcuts right from your home screen. You can customise these shortcuts to access the apps you use most frequently. You can even add three-click shortcuts on your home or side button for quick access to essential functions.
Siri voice assistant
Siri, Apple's voice assistant, can be a really useful tool to navigate your iPhone or iPad.
It offers you hands-free control through voice commands. You can enable calls, texting, setting alarms, and reading text aloud. Siri also provides navigation assistance, reads web content, integrates seamlessly with VoiceOver for screen-reading, and supports voice searches. Siri can also manage your schedule, play media content, and assist in locating lost devices through "Find My".
Follow these steps to enable Siri:
In the Settings menu, select "Siri & Search."
Enable 'Listen for "Hey Siri". Siri will now listen out for you. You can also chose to enable Siri by pressing the side button on your phone.
To stop Siri from listening out for you, simply toggle off 'Listen for "Hey Siri".
In this menu you can also delete Siri & Dictation History, enable or disable 'Automatically Send Messages' and more.
Adjust your iPhone or iPad screen settings to suit you
You can customise your iPhone or iPad's screen settings to make it more comfortable to use. Explore features such as Apple Zoom, Reduce Motion, and Text Size.
For each of the following features: "Zoom," "Motion," "Text Size" "Contrast" - you will need to access your device's Settings (this app is typically found on your home screen), then scroll down and tap on "Accessibility" and toggle the switch to the "On" position to activate the feature(s) relevant to you.
Our Tech Hacks videos provide step-by-step guidance for each setting.
VoiceOver screen reader
VoiceOver is Apple's built-in screen reader, designed to make your device accessible through audio and tactile feedback. With VoiceOver, your device can read aloud the contents of your screen, enabling you to navigate and interact with your device effectively through touch and audio feedback.
VoiceOver offers various settings you can customise to meet your needs. You can also connect a refreshable braille display for tactile feedback. To make VoiceOver even more accessible, you can set up an Accessibility Shortcut that allows you to toggle VoiceOver on and off quickly.
For further information on VoiceOver, how it works, and how it can benefit you - check out our instructional videos on VoiceOver and the rotor option for detailed guidance.
Magnifier app on iOS
The Magnifier app turns your iPhone or iPad camera into a powerful magnifying tool, helping you navigate your surroundings better.
Dive into the details of using SplitView on your iPad, Detection Mode on your iPhone, and the newly added "Point and Speak" feature for 2023 below.
Apple's text-to-speech and speech-to-text features
Apple's text-to-speech and speech-to-text features help you interact with digital content - making it easy to convert written information into spoken word and vice versa.
The text-to-speech feature enables you to transform written text into natural-sounding spoken language. With a simple tap, you can have articles, emails, or any written content read aloud. You can change the voice, pitch, and speaking rate to match your preferences.
On the flip side, Apple's speech-to-text feature enables you to convert spoken words into written text. This functionality is really useful for capturing spoken ideas, creating text-based notes and sending messages.
Apple's accessibility features for mobility
Apple's accessibility features aren't limited to helping you if you have a vision impairment; they also support people with mobility challenges. Learn more about "Assistive Touch", "Switch Control", and "Reachability", which enhance the accessibility of your device for various needs below.
Frequently asked questions
Did you know that there are many other tools and devices available that can help you navigate your needs with vision impairment?
In this section
Apple accessibility features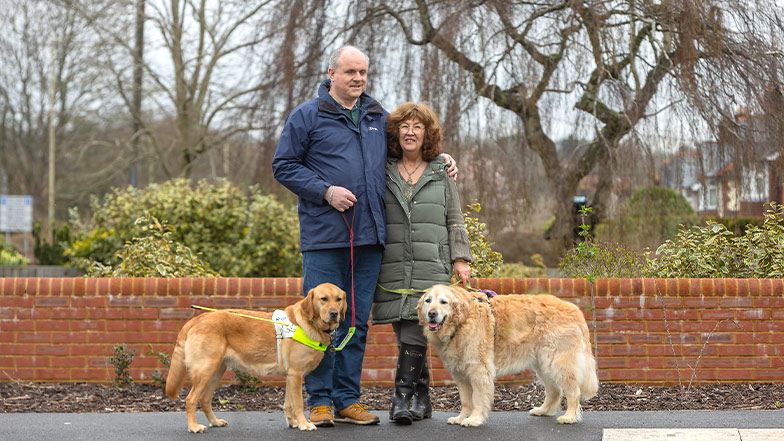 Have you found us on YouTube?
Join us on YouTube and find more useful information about all things Guide Dogs. We also share some great resources on Technology which can be useful for vision impairment and a lot of heartwarming stories of how Guide Dogs is making a difference.